Being an expat in Lebanon has its challenges, especially when you're pale, blonde and built like a boy. Bras rarely come in less than a C cup and hair colorists don't always know their way around shades of wheat and honey. But rather than fight it, I decided to finally embrace Beirut's beauty norms with a mall makeover. My only request at the counter? "Give me the usual."
We sent out four other women living far from home to their local malls to do the same – the first installment in our "Mall Makeovers" series. It's like touring the world, one makeup counter at a time.
BEIRUT, LEBANON
Name: MacKenzie
From: Massachusetts, United States
Beauty routine: Basic. Tinted moisturizer, highlighter, concealer, mascara and red lipstick.
G/O Media may get a commission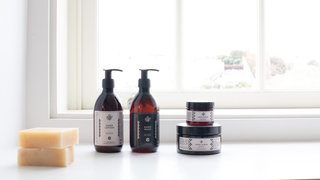 Exfoliate and Hydrate
The Handmade Soap Company
Beirut trends: Bold brows, perfect skin (even if it requires six-inches of makeup), contouring, cat eyes, false lashes. More is more, Kim Kardashian-style. Natural is less important than perfect and tanner is better. I'm often called out for being "too white."
Process: My makeup artist kept saying she was going to do something "natural," and then pulled out shadows in burnt orange, blue, aubergine and dark, glittering brown. She also told me my face was good luck because we kept being interrupted by women who wanted whatever was being painted on it.
Outcome: The makeup artist whispered, "Oh my god..." several times as she admired her work. She then insisted on an in-store photo shoot with my phone, where she kept directing me with cues like, "Smile!... but less." Back in my office, it was a mixed-bag of reactions: some said I looked like a blow-up doll, others really liked it, "for a dinner or something." My Lebanese husband refused to look directly at me.
LONDON, ENGLAND
Name: Talar
From: Mount Lebanon, Lebanon
Beauty routine: Neutral primer on my lids and a gel liner to create a cat eye. I sometimes use foundation with a little bronzer, and some chapstick.
London trends: London is such an eclectic city that everyone has their own style. That said, the Kate Middleton look is in, and Sienna Miller and Rita Ora are also beauty icons. The no-eyebrow trend is quickly catching on, but Cara Delevingne brows are here to stay.
Process: I asked the makeup artist to give me the go-to look for women in London. She didn't use a ton of makeup but just highlighted my features. She did do some contouring – if I had the patience and skills to contour my face, I definitely would.
Outcome: I looked like a slightly prettier, fresher-faced version of myself. I was surprised by how long it takes to look so simple, and also that I don't necessarily have to do a cat eye to make them pop. Because the makeup is so understated, my friends just thought I was having an exceptionally pretty day.
HO CHI MINH CITY, VIETNAM
Name: Liv
From: Norfolk, England
Beauty routine: Foundation – probably a darker shade than my natural skin color – blush, liquid eyeliner and mascara. I recently added eyebrow pencil just to mix it up.
Ho Chi Minh City trends: In Vietnam, pale is beautiful, and they're in whole-hearted agreement with our Victorian forefathers in their idea that freckles are fine if you're a pig-herder in the countryside. This obsession with maintaining pale skin is still evident everywhere in Saigon. The women wear split toe socks under their flip flops to avoid tan lines on their feet, they wear full length gloves while riding their motorbikes and wrap scarves under their helmets and around sunglasses to maintain their pale complexions.
Process: By far the most lengthy process was making sure my skin was as smooth and white as it could be. I didn't ask for my hair to be fiddled with but they kept stroking it and then looked wistfully at me...
Outcome: I find the finished look very aging. I guess when you paint a wall white, you can still see the darker cracks and crevices.
DUBLIN, IRELAND
Name: Season
From: Maine, United States
Beauty routine: I tend to have dry skin, so I always moisturize multiple times a day. When I have a nice, glowing base, I'm happy with a bit of mascara, brow gel, and blush.
Dublin trends: I find that Irish girls have a lot of confidence and will wear any trend – and a lot of make up. Football is so big that young women aspire to be like the Wives and Girlfriends (WAGS) of footballers: "glamorous." Older women seem to have settled for basic makeup, but fake tan and bronzer are popular.
Process: I was impressed with the technique she used, and I did actually learn how to apply makeup properly. But I use very little in comparison, and the blush is probably my least favorite aspect, bordering on an '80s nightmare.
Reaction: I don't feel like I need to hide my face in shame, but it will take some getting used to. My son was terrified. I caught him staring at me, confused and scared, quite a few times.
DUBAI, UNITED ARAB EMIRATES
Name: Alia
From: Massachusetts, United States
Beauty routine: Impatience has cut down my routine to under five minutes: moisturizer, tinted CC cream or mineral powder foundation if I'm not feeling tan, three swishes of bronzer, a little blush, eyeliner, and mascara. My little sister recently got me into paying attention to my eyebrows.
Dubai trends: Dubai itself is over 90% expat, but in this case, "Dubai" refers specifically to Gulf Arabs as a whole – the Khalijis, or "locals." Within that community, you can definitely start to see some common trends. The main emphasis is always on the eye makeup – quite heavy, quite black – and a perfect complexion.
Process: I told my makeup artist that I was fresh off the boat, new to this part of the world, and that I was just invited to a dinner with a local family. She said I had good skin, so she'd do super "light" foundation. Up close, I looked like a Pinterest DIY fail, but she said that under the dim lighting of dinner my face makeup would look drop-dead gorgeous. She worked meticulously for 40 minutes creating a smoky eye, and told me my lips had to take a back seat this time.
Outcome: At first glance, it was what I expected. But then, I looked at my eyes in the picture she took and – yup – they look crossed. I have since confirmed this fact with two neutral parties. I realized then that thick eyeliner is a delicate but dangerous beast.
Next up in Mall Makeovers: Dallas, Texas.
MacKenzie Kassab is the editor-in-chief of A Magazine.