It's hard out there for a mom. Recently, a woman in Houston was kicked out of a Hollister store because no human beings should shop there. JK, it's because she was breast feeding. In response, three women decided to stage a "nurse in" at a Hollister store at the Concord Mall in Delaware on Saturday. Just for the record, according to Delaware state law, women are allowed to breastfeed in any public or private location.
According to NBC Philadelphia, Diana Hitchens, Autumne Murray and Jessica Hitchens arrived with their babies hanging from boobs and carried signs that read "Hey Hollister, my baby has a right to eat. It's the law," as well as "Normalize breastfeeding in public. Do you eat in public? Why shouldn't our babies?"
"We walked through the store and the employees asked if we needed help with anything," said Diana Hitchens of Elkton, Maryland. "We were actually nursing as we were walking through the store."
"Two security guards walked up to us," said Autumne Murray of Elkton, Maryland. "They started questioning us and asking us why we were exposing ourselves and saying that we needed to leave or cover up. We got in an argument with them about it for a little bit and then they left."
The mall security left and returned with a Delaware State Trooper who was on routine patrol, according to state police.
G/O Media may get a commission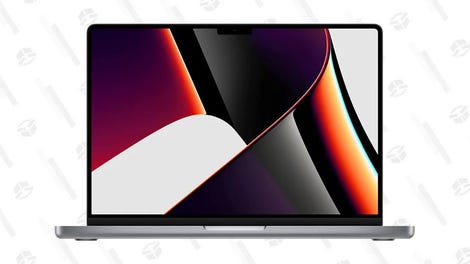 Save $300
2021 14" 1TB MacBook Pro
"He was asking if we were exposing ourselves saying that the security guards said we were exposing ourselves and that we could be kicked out of the mall if we didn't cover up," said Murray.
However, the mall issued the following statement after the story blew-up on the mom blogs:
The contract security officer involved in this unfortunate incident was immediately removed from the Concord Mall. The Delaware State Police were not called because a woman was breastfeeding their child. The State Police patrol the mall as a usual patrol and came up on the security officer and the women arguing. The trooper intervened and the security officer was removed and sent home pending further action.
So, I guess the security guard was fired when the ruckus started, but the state trooper is off the hook. Oh, and women still get shit for keeping our nation's future alive in public.
Image via ZouZou / Shutterstock.