A kitchen manager at an elementary school in suburban Denver, Colorado was fired last Friday for repeatedly giving free meals to students who couldn't afford to pay for them.
Della Curry, formerly of Dakota Valley Elementary School in Aurora, Colorado openly admits that there were times when students in front of her weren't able to pay for lunch, so she gave them one anyway. "I had a first grader in front of me, crying, because she doesn't have enough money for lunch. Yes, I gave her lunch," she told CBS Denver during an interview.
Though Curry understands why she was let go—and doesn't seem to hold the school district responsible, which is interesting—she also makes no bones about the fact that the law that prevented her from giving away full meals to kids who couldn't afford them is unjust. Early in the interview, she says she "would do it again in a heartbeat," and later on, expresses the hope that her firing and the subsequent story might lead to some real change.
Colorado elementary school students whose parents make less than $31,000 combined get a free lunch, while the threshold is $45,000 for a reduced lunch. The students Curry was dealing with were those whose parents made more than those baselines, but not enough to be able to afford school lunches. Those numbers are lower than they seem; while Denver isn't the priciest city, it's expensive enough that trying to take care of an entire family on $48,000 a year wouldn't exactly be smooth sailing. It's important to note that the school doesn't technically give these kids nothing in any case: if students are in a situation where they can't pay for lunch, they're given one slice of american cheese on a hamburger bun along with a small milk. Curry understandably feels that's not enough, because no shit, we feed prisoners better than that (well, unless Aramark has the catering contract).
The most interesting part of this story to me is that at least in many of the cases, Curry wasn't giving away free food per se—she was simply paying for it herself. Curry says that over the course of a year working for the school, she gave out 20 lunches. It's unclear whether she paid for every instance or merely some of them—at one point, Curry states that what she did was "against policy," while in another, what she did was "against the law." If it's the latter, it means she was giving away an employer's product, which, yes, even if done with the best of intentions (and it's hard to think of better intentions than these), that's still grounds for termination. If she actually paid for all of the lunches in question, though, this story becomes far more disturbing, because that means there's a specific policy against school cafeteria workers using their own money to pay for food for needy students.
G/O Media may get a commission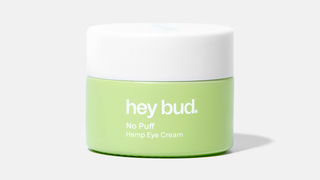 15% off
Hey Bud - No Puff Hemp Eye Cream
Meanwhile, the school's statement on Curry's firing reads pretty much exactly how you'd expect it to:
The law does not require the school district to provide the meal to children who have forgotten their lunch money, that is a district decision. According to our practice, we provide hot meals to students the first three times they forget their lunch money and charge their parents' accounts. The fourth time, we provide a cheese sandwich and milk.

The district has worked to keep lunch prices low and still meet the federal nutrition requirements. The costs of our lunch program are not covered by the prices we charge. At the end of the year, any unpaid accounts revert back to the general fund which also covers instruction, security, building maintenance and overall operations.
If the school district was looking to try to make itself look less bad with that statement, I feel pretty confident they can go ahead and mark that down as Mission Not Accomplished.
Update: The school district is now claiming Curry was not fired for giving free food to students. Their statement reads as follows:
Unfortunately, inaccurate information has been provided to the media by a former Cherry Creek School District employee. Ms. Curry was not dismissed for giving free food to financially disadvantaged students.

Numerous documented incidents resulted in the action taken by the Cherry Creek School District. Currently, we are unable to fully disclose all of the details concerning her dismissal without her permission, which she presently has declined to give. Should she change her mind, we will release all of the information associated with this investigation.
Curry herself does admit she did not give them permission to release her personal information—information which could potentially include protected and private information unrelated to this case. As Snopes notes, it's curious that the school district's initial reaction was not to say Curry was fired for other reasons, but to essentially defend the policy of giving kids prisoner-grade scraps of food if they couldn't pay for a full meal; it was only after the story blew up that they felt the need to try to deny any wrongdoing. It's also worth noting that Option A in the Employer Caught Firing Employee For Bad Reason Playbook is to claim "nah, they were actually fired for something completely unrelated!"
So, is it possibly Curry was lying, and she wasn't fired for this? Sure, it's possible. But there are enough inconsistencies in the school district's behavior that I don't feel confident saying that was the case.
Image via mertcan/Shutterstock.
---
Contact the author at WilyUbertrout@gmail.com.