Lorde created a wonderful new album, but all anyone wants to talk to her about during her press tour is her relationship with Taylor Swift. On Friday, Lorde was asked by a reporter with the Australian TV show Sunrise what it was like "observing all of those heroes of yours?" The implication was that the heroes in question were...Taylor Swift, but Lorde responded:

"The second you think too hard about it, you'll just go insane so it's best to be like, 'We're in Wonderland. That's just what happens around here.' Like, also, I don't hang out with these people at all."
"But hang on, you're part of Taylor's squad, all the magazines tell us," the reporter drooled, which is how we knew this was going downhill. "But hang on" is the last phrase you ever want to hear from an interviewer—it means you just inadvertently said something juicy and that will be the headline.

And it was! Lorde had to issue a whole (very eloquently crafted) statement to contain the fallout.
This has been the latest installment of Fame Sounds Exhausting.
---
Ferrari has dumped Blac Chyna following Rob Kardashian's online ranting about her earlier this week, and has returned $135,648 worth of jewelry that he'd planned to give her, TMZ reports:
Sources connected to the rapper, tell us Ferrari was hooked on Chyna ... so much so he dropped $135,648 on three pieces of jewelry for her:

- $34,850 for a Rolex

- $56,500 for a gold necklace

- $32,250 for diamond earrings
Ferrari's manager intended to deliver Chyna the gifts on Wednesday (romantic?), but everything was taken straight back to Atlanta's Icebox Jewelry after Kardashian unleashed his Instagram tirade, which included a series of vengeful nudes and cheating allegations.
G/O Media may get a commission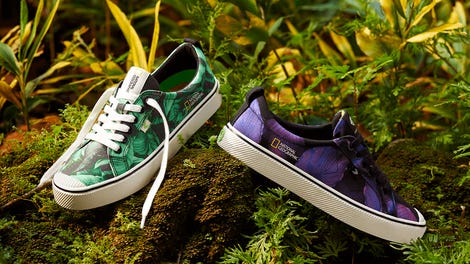 New New New
Cariuma + National Geographic
Meanwhile, Chyna has secured the legal services of Lisa Bloom, and has accused Kardashian of physical abuse. According to TMZ:
Chyna says in her declaration, this past April Rob was mad at her and began speaking poorly of her in front of her son, King. When she asked him to stop she says Rob screamed, "I can say whatever the f*** I want!" and then grabbed her phone, pushed her to the ground, "aggressively shoving me by the side of my arm and hitting me on the thigh."

She says she fell to the ground and when she got up she was bruised and could barely walk.
She added that the two have been broken up since December, and that "Rob has been violent with me in the past and I am afraid to be around him."
---