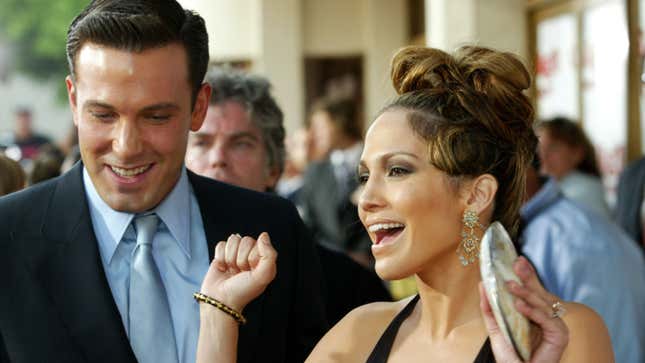 Like a lot of people, I've spent most of this Bennifer 2.0 news cycle like "Nostalgia is a cage, but this is cute! They're definitely gonna hit it and quit it once they get over their respective exes, but in the meantime please do inject that early-aughts tabloid revival high directly into my veins!"
Dirt Bag of the Week: Katharine McPhee
But according to the latest headlines, Ben Affleck and Jennifer Lopez might actually be serious.
TMZ reports that Lopez, who's currently in Los Angeles visiting Affleck after he did the same for her in Miami, has apparently been checking out schools or at least a school near Ben's L.A. home. And according to some unnamed source who spoke to People (who might just be Ben putting on a Mare of Easttown-derivative Philly accent in an attempt at disguising his voice on the phone but who knows), Jennifer's "incredibly happy" with him!
It really seems like it's happening... As if popculturediedin2009 willed it themselves...
---
Kourtney Kardashian and Travis Barker have entered the "hawking each other's merch online" phase of their relationship. [Us Weekly]
"Halsey Glows As She Shows Off Growing Baby Bump...On Trip To Grocery Store," i.e., "We took pics of this pregnant lady in a parking lot without telling her! Enjoy!" [Hollywood Life]
An upcoming episode of Nickelodeon's Danger Force will feature an openly trans teenage actor, 13-year-old Sasha A. Cohen. [Variety]
And in wayyyyyyyy fucking worse Nickelodeon star news, Drake Bell has pleaded not guilty after being arrested and charged with endangering children. [Bossip]
Looks like Mary J. Blige is dating Conway the Machine. [Bossip]
When asked what her Dawson's Creek character Audrey's would be up to now, Busy Philipps said: "She's probably just living in L.A. and married or divorced." Queen of imagining! Invented creative thought! [Us Weekly]
Alicia Silverstone recreated an iconic moment from her 1995 film, Clueless, with some help from her 10-year-old son: