It pains me to say this, but it is summer and nothing truly matters. The Crocs heel that has rattled the cages of anyone with an opinion (read: everyone) are not a harbinger of the End of Days.
Ana Gasteyer Satirizes the Girl Boss in 'American Auto'
Many were incensed that Crocs are making a heel in the first place, but it has also upset me—a person who despises shoes, high heels, and being uncomfortable—but was very much looking forward to purchasing said shoes and wearing them for the rest of the summer!
The Crocs in question aren't objectively hideous, but they are very much a particular aesthetic choice that is not dissimilar in spirit to shoes by Camper, or in actual appearance to shoes by Melissa, a Brazilian brand that specializes in sexy jelly shoes for adults. The only difference is that Melissa's shoes are of the shiny, rubbery sort that will cause even the most hoof-like foot to blister instantly, especially when strolling about in the face-melting heat and torrential rains that are currently plaguing various parts of this country.

G/O Media may get a commission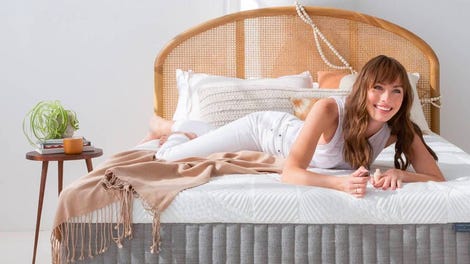 Sleep Sale
Sleep Sale - Brentwood Home
Crocs, for the record, has been making heels for some time; a simple glance at their offerings other than the iconic and honestly quite comfortable clog sandal reveals a bevy of more formal options should one want to be the most fashionable gal at the PTA meeting—or just a woman dedicated to wearing footwear that... feels good? Let me sink my tamale foot into the welcoming embrace of an Ortholite footbed, but do not make me teeter on a razor thin heel.
Think of it this way: a Croc heel is a regular shoe, but it's made entirely of rubber. It will serve you well in a downpour and will be there for you when you find yourself near an open fire hydrant. Traipse through that spray like a Sex and the City background actor. Run like the wind for the crosstown bus. Your shoes! Are! Rubber! They're comfortable! Practical, even—something that shoes, especially heels, are not supposed to be. For some, ceding to practicality means giving up, but what precisely is the sacrifice? A Croc heel doesn't mean you don't care about yourself anymore, but that you are done feeling uncomfortable and would rather occupy your brain space with other more pressing matters like your 401(k) or what to do about your cousin who has been living in your aunt's house for about 13 years too long.
Crocs clogs—the rubber shoes with ventilation holes that can be plugged with these things called Jibbitz—have been trying their hardest to make a comeback, with varying success. I am loath to reference Shia LaBeouf as any sort of touchstone for fashion, but here's a picture of him in blue Crocs from 2016. This look—whatever it is!—predates the current micro-trend of granola hypebeasts like Jonah Hill and John Mayer, schlubbing around in pap photos dressed like that dude down the hall who sold mushroom chocolates freshman year. These high heeled Crocs are just the beginning. Embrace it.