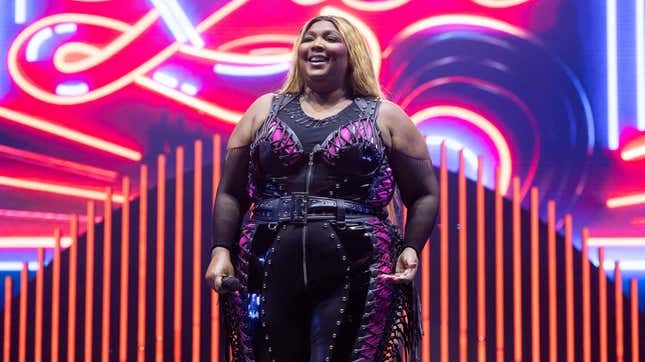 On Wednesday, Lizzo's attorney, Marty Singer, told TMZ the singer planned to sue the three former backup singers who accused her of creating a hostile work environment through sexual, religious, and racial harassment. In "newly surfaced photos" Arianna Davis, Crystal Williams, and Noelle Rodriguez can be seen "happily carousing" and "gleefully reveling" after attending a topless show in Paris during Lizzo's tour, Singer said.
Raquel Leviss Told Us 'I'm Like, A Good Person' Just 48 Hours Before #Scandoval
In early August, days after the former dancers filed their bombshell lawsuit which detailed an instance where Lizzo allegedly forced the dancers to attend the show in Paris, the singer denied the accusations outright.
"These last few days have been gut-wrenchingly difficult and overwhelmingly disappointing. My work ethic, morals, and respectfulness have been questioned," Lizzo wrote on Instagram. "My character has been criticized. Usually, I choose not to respond to false allegations but these are as unbelievable as they sound and too outrageous to not be addressed."
Elsewhere in the lengthy statement, she went on to accuse Davis, Williams, and Rodriguez of their own inappropriate behavior on the job.
"These sensationalized stories are coming from former employees who have already publically admitted that they were told their behavior on tour was inappropriate and unprofessional." Apparently, said photos are evidence of Lizzo's charge. The pictures were reportedly taken in March of this year, one month after Lizzo's tour stop in Amsterdam where the former dancers alleged she pressured them to engage with nude performers at Bananenbar in the red light district.
Singer went on to claim that the three dancers chose to sign on for the next leg of the tour after the Paris dates, and noted Davis' April 2023 audition tape where she referred to the singer as "Queen Lizzo." Davis has since said that at the time the tape was filmed, she hadn't yet realized how she'd been taken advantage of.
"She tried to explain away her glowing comments about Lizzo by claiming the 'bulk' of her accusations were based on things that happened later," Singer told TMZ. "That excuse is completely contradicted by the facts, including by these images."
Meanwhile, Neama Rahmani, the dancers' attorney, disputed Singer's characterizations of the photos and claimed her clients only appeared to be happy because they were trying to maintain employment.

"Of course, they wanted to keep their jobs," she told TMZ. "They had bills to pay just like everyone else but they finally had enough of the abuse. We stand by every claim in the lawsuit and look forward to trial."