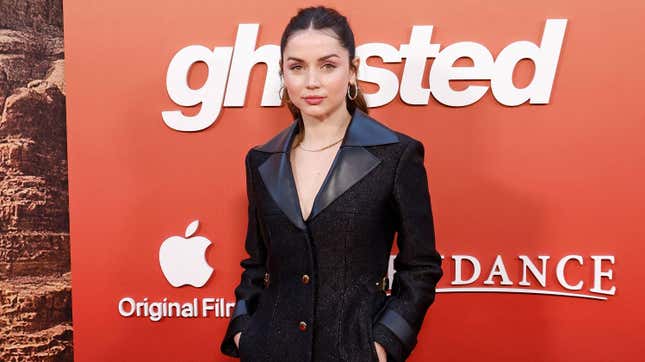 It's bad news for the two Ana de Armas fans who filed a class action suit against Universal accusing the studio of deceiving them into watching Yesterday—a 2019 romcom that featured the actress in its trailer but failed to include her in the final cut. This week, U.S. District Judge Stephen Wilson dismissed the suit accusing the studio of false advertisement, unjust enrichment and violation of unfair competition. Wilson ruled that the filing can't move forward because the plaintiffs, Peter Michael Rosza and Conor Woulfe, "didn't rely on alleged misrepresentations from the studio when making the decision to watch the film."
Mica Burton's Rebellion Against Her Dad, LeVar Burton, Was Being a 'Star Wars' Fan
The plaintiffs allege in the suit, filed last January, that they rented Yesterday because the trailer made it seem as if de Armas played a more substantive role in the film. Additionally, the filing noted that the actress' name is listed as a cast member in search results (a quick Google search confirms this), which contributed to the alleged misrepresentation. Hilariously, the suit goes on to state that Universal "used" de Armas' likeness to dupe more people into watching because the two leads, Himesh Patel and Lily James, weren't noteworthy enough to garner a significant audience.
"Unable to rely on fame of the actors playing Jack Malik or Ellie to maximize ticket and movie sales and rentals, Defendant consequently used Ms. De Armas's fame, radiance and brilliance to promote the film by including her scenes in the movie trailers advertising Yesterday," the filing stated. De Armas' character was reportedly a love interest for Patel's, but her scenes were left on the cutting room floor.
In fairness to Rouza and Woulfe, the film's trailer does show de Armas and Patel sharing what looks to be a meet-cute on the set of James Corden's talk show. Though I'm not exactly inspired to take legal action, I'm definitely intrigued why her scenes were cut. Richard Curtis, the film's screenwriter, has previously said they were sacrificed simply because they distracted from the Patel and James' story. However, given one of the scenes—a pivotal one at that—also happened to feature the "tiny cretin of a man" known as James Corden, my brow is raised.
Now, the internet is as scourged by stories about the former late night host and comic—a generous term—being shitty (i.e. the Balthazar ban, tantrums on-set, and ignoring his own wife and crying child on a flight) as it is by carpool karaoke videos. Upon some light investigation, however, it would appear Yesterday was released in June 2019...mere months after Corden was accused of crashing a private Writer's Guild Association meeting to advocate in favor of unlivable wages for starting writers. While he denied that his attendance was nefarious, more rumors that he's not quite the good guy he purports to be only persisted right up until the end of The Late Late Show in April 2023. Of course, that disastrous Reddit AMA (which I must point out took place a month prior to Yesterday's release) didn't exactly help Corden's case either.
In light of the ongoing WGA and SAG-AFTRA strike, it does give me the giggles to imagine that de Armas' trailer-worthy scene wasn't cut last minute for any other reason than because Corden—fresh off yet another controversy wherein he's accused of treating people he perceives as underlings like second class citizens—was also in it.
Whether that's the case, I guess we'll never know for certain. That said, the deleted scenes will always be an injustice for these two very devoted de Armas fans, and I wish them peace.