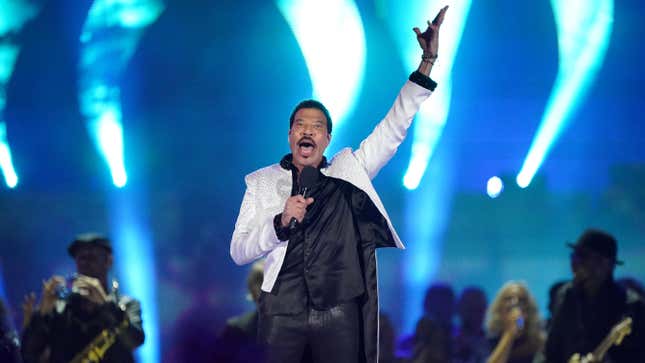 Sorry to the Botox users of the world, but apparently we've been doing it wrong all this time. Lionel Richie, 73, has discovered the real secret to maintaining a youthful appearance and it's…fucking!
Shakespeare Prepared Emma McDonald for Taking on Sci-Fi
Richie, who is a literal grandpa to Nicole Richie's two children, was forced to set the record straight about his unnaturally smooth face after his performance at King Charles III's coronation on Saturday, according to the Daily Mail. (Richie was invited to perform alongside an, um, eclectic lineup of acts including Katy Perry, Nicole Scherzinger, Andrea Bocelli, and Take That because he and the King are "friends." Of course they are.)
"Lionel Richie's face looks more fake than the clay fan the blind woman was sculpting in his 'Hello' video!" one very kind user commented.

"Lionel Richie has really messed up his face….why do these people do that to themselves? They never look any younger they just look odd," another said.

But the singer swore to the Daily Mail that he has never—and would never—consider plastic surgery because "that shit goes wrong!" "[Plastic surgery] locks you in for that year [while you recover] and after that, you can't go naturally, you're staying right there…You try and go back to reset, and you can't," Richie said.

His real secret to looking like a spritely little firecracker onstage? Water, sleep, sweat, not "too much red meat," and...sex.

"I know it's real boring. [Sex] will work also, and it's good for your heart," he clarified. This from a man who has been dating 33-year-old model Lisa Parigi for more than a decade, which means he began dating her when she was in her early twenties, which is younger than his youngest daughter, Sofia Richie, is now (she's 24 years old).

Thank you, Lionel, for the really great medical advice that I'd never thought of before—and for gifting us the lovely mental image of you getting your, um, daily exercise on with someone less than half your age. Rock on, I guess.

---