Sen. Lindsey Graham, the Republican presidential hopeful who is polling so low he failed to qualify for either of the last two Republican debates, was scheduled to discuss foreign policy at Thursday's Republican Jewish Coalition after Sen. Ted Cruz's speech. Apparently, Cruz's claim that the Republican party will succeed if it doubles down on wooing evangelical Christians was enough to enrage Graham so much that he went totally off-book.
After pandering to the Jewish audience ("If elected president, I may have the first all-Jewish cabinet in America"), Graham slammed the "hateful rhetoric" of the Republican party, and argued that to win the election, it would have to begin to accept women and immigrants as people.
"It's not about turning out evangelical Christians, it's about repairing the damage done by incredibly hateful rhetoric driving a wall between us and the fastest-growing demographic in America. It's about looking Hispanic Americans in the eye and saying, 'We get it, be part of our cause,'" Graham said, referring specifically to the damage wrought by bag of hair Donald Trump.
"It's not because of social issues that we will lose—it's positions we take regarding social issues that can disconnect us from America at large. If you're going to tell a woman whose been raped that she has to carry the child of the rapist, you're going to lose most Americans," he continued.
G/O Media may get a commission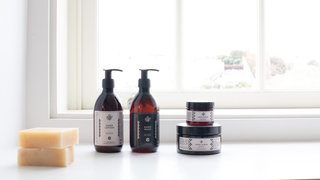 Exfoliate and Hydrate
The Handmade Soap Company
"Ted Cruz doesn't have an exception for rape and incest," Graham doubled down, failing to note that Sen. Marco Rubio doesn't either. "[If Cruz becomes the nominee, the election] will be about rape and if you don't think that then you just don't understand what [the Democrats] will do. It will be about the nominee of the Republican Party telling a woman who has been raped, you have to carry the child of the rapist. Good luck with that."
He concluded with the sweet plea: "I'm at one percent. Help me stay in this race."
And then, oh my god, this happened:
---
Contact the author at joanna@jezebel.com.
Image via Getty.