After her lil' detour at an electronics store, Lindsay Lohan checked into rehab. Two minutes later, she checked out and derped away quickly, chanting: "I'm not going to rehab. I'm not going to rehab. Take me back to the airport."
Simultaneously, on the opposite coast, her attorney Mark Heller was assuring the judge that LiLo was "ensconced in the bosom of that facility right now." This is like an episode of 24!
"She felt Morningside was not suitable for her. There were too many paparazzi everywhere and she didn't feel safe. Nobody close to her is happy about this. They think she's really not being smart."
Late last night, she rehired her former attorney Shawn Holley — who she and Mark Heller dumped in late January — and is now attempting to finagle a last-minute deal with the D.A. to get into the Betty Ford Clinic for another bosom-ensconcement attempt. [Radar Online, Us Weekly]
UPDATE: Linds is now at Betty Ford. [TMZ]
Captivating:
G/O Media may get a commission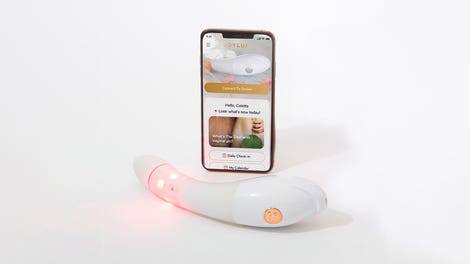 $50 Off
Joylux vFit Gold Device
---
Ever since Martha Stewart was like, I really need some bone in me, so I joined Match.com, she's become incredibly endearing...? See: Her bumbling interaction with Gabby Douglas.
Sources tell us Stewart was thrown by Douglas, dressed in a suit and heels, and abruptly asked the petite athlete, "Who are you?" Douglas politely replied, "I'm Gabby." [...] The media mogul, we're told, was mortified. "I didn't recognize you with clothes on," she quipped.
[Page Six]
---
Kim Kardashian wants a starlight wedding in Big Sur and Kanye West wants there to be no media allowed, besides a specially-brokered deal that will benefit charity. Instead of selling wedding photos, "Kanye says they should consider a donation to one of Kim's charities like the Skin Cancer Foundation, or Mattel Children's Hospital in a deal around the wedding for a short film."
Cut to 'Ye texting Jay-Z like "yo whos that guy that made 8 1/2? whats his handle i gotta @ him" [iDesign Times]
Kim has to give Midori back the cash from her huge promotional deal because she's pregnant and can't party. [Page Six]
Kanye has returned to Twitter with a single tweet: "June Eighteenth." Whether this is a new album release or the projected date of Kim popping out their kid remains to be seen. [Page Six]
---
Asswipes weight-shamed Carla Bruni-Sarkozy after she had Giulia, she tells Vanity Fair in their June 2013 issue. She also weight-shamed herself: "I'm kind of tall, with good-size shoulders, and when I am 40 pounds overweight I don't even look fat—I just look ugly. Having children when you're older is not easy." [Radar Online]
---
Image via Getty