No. No. No. No. NO. NO. NO. Oh god. I just can't watch this Reese Witherspoon dash cam footage. I can't I can't I can't I caaaaan't. I CAN'T. WHYYYYYYYY.
Reese: "Do you know my name sir?"
Officer: "Don't need to know."
Reese "You don't NEED to know my name?"
Officer: "Not quite yet."
Reese: "YOU'RE ABOUT TO FIND OUT WHO I AM!"

Reese: "I have done nothing against the law."
Officer: "Yes you did, you didn't obey my orders."
Reese: "I HAVE TO OBEY YOUR ORDERS??"

Reese: "I'm now being arrested and handcuffed??"

Reese: "I'm an American citizen ... I'm allowed to stand on American ground."

Reese: "You better not arrest me."

Reese: "I'm being anti-American?"
Officer: "Yes, please sit down."
Reese: "Wow!"

Reese: "You're harassing me as an American citizen"

And the best line — "I'm obstructing your justice?"
Uuuuuuuuggghhhh no. Noooooooooo. Can somebody please re-arrest Reese Witherspoon for murdering me with embarrassment? Thx. G2G, in heaven now. [TMZ]
---
According to sources, which never lie, Kiera Knightley and her betrothed, James Righton, are planning to covertly tie the knot in a magical lavender field in the south of France. Knightley recently purchased a "five-bedroom stone mansion surrounded by lavender fields and vineyards" about four hours outside of Marseille.

Knightley and her mom Sharman MacDonald arrived in France around a week ago, E! News has learned, while Righton was snapped landing down a few days ago.

According to local sources in the south of France, some sort of ceremony is taking place this weekend. Though they can't confirm that these lovebirds will be exchanging vows, they do hear there will be a wedding.

We also hear it will be a small gathering of family and friends that will be taking place at Knightley's house in the south of France or at one of the local hotels.
G/O Media may get a commission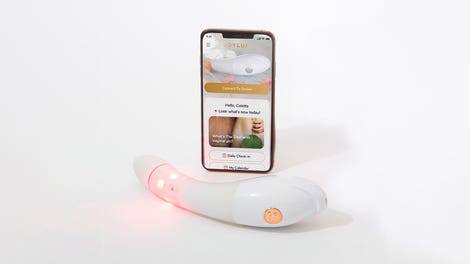 $50 Off
Joylux vFit Gold Device
Keira. Girl. Has anyone ever told you how fun I am at weddings? All I am doing is saying. [E!]
---
Whopopoposss!!! Lindsay Lohan was spotted shopping at Fry's today instead of showing up for her court-ordered rehab.
Lindsay Lohan's lawyer lied in court today when he said his client was already ensconced in a rehab facility ... she was actually roaming the aisles of an electronics store.

Lindsay was at Fry's Electronics in Fountain Valley, CA at 9 AM ... the same time her lawyer, Mark Heller, told the judge she was confined to Morningside Recovery in Newport Beach.

Fact is ... this post went up at 11:10 AM PT and she's still not at Morningside. Lindsay's SUV arrived at the facility a short time ago but she didn't get out ... the vehicle left with Lindsay still inside.
To be fair, though, Fry's has great deals on SuperSpeed Hubs, and also sometimes instead of being a building it's just a giant papier mache spaceship. So. [TMZ]
---
Were you interested in seeing more from Miley Cyrus's semi-nude photo shoot for V Magazine? Here is some behind-the-scenes video. Included: much bunz. Also Mario Testino doing a little dance. [E!]
---
Jeff Hanneman, lead guitarist for Slayer, has died of liver failure at age 49. Condolences. (Here is an awesome thing my friend wrote about what Slayer meant to her as a teenage girl. I love it.) [Us]
I'm impressed that anyone could pack this much weird, leering slut-shame into one tiny blurb about Rita Ora wearing a see-through coat. [E!]
Here's an adorable pic of some Katie Couric PDA. [Us]
Ashton Kutcher settled his lawsuit against the California DMV. [Yahoo!]
Here is Nicole Eggert talking about baby weight and stuff. You know, like women do. [People]
Nicki Minaj called Mariah Carey "insecure" on Twitter. [E!]
I'm out, babies.
Images via Getty Images North America.