Just hours after leaking news of her engagement to "Russian" "heir" "Egor" "Tarabasov" to the press and then denying it, Lindsay Lohan and her fiancé were spotted alongside her parents, Dina and Michael, at a Duran Duran show in Brooklyn. Why were they at a Duran Duran show in Brooklyn, you ask? Why, because she needed a place to show off her wedding ring!

After calling the appropriate photographers and news outlets to alert them of her decision to see Duran Duran, the bride-to-be was kind enough to turn her enormous emerald ring in the direction of the cameras before holding it up.
Ready to see it?
Here.
We.
Go:
That's a ring, all right! That's definitely a ring.
[TMZ]
---
One of People's cover stories this week is about how all the Kardashian-Jenners (well, all but one) are "really not into the engagement" of Rob and Blac Chyna.

G/O Media may get a commission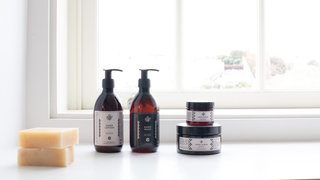 Exfoliate and Hydrate
The Handmade Soap Company
Said a source:
"Khloé and Kylie think Chyna is desperate, thirsty and playing with Rob's head. They're also concerned she is after his money and that she is dying to stay relevant and get back at Kylie by being with Rob."
Here's why this is bullshit. Blac Chyna has spent the past few months becoming more relevant than she's ever been. After starring in a hit reality show for nearly 10 years, it's the Kardashians who are "dying to stay relevant." They have every reason to support Chyna and the fresh air (and fresh lashes) that she's blown (glued) onto their family.
No, I think they're all getting along. They sort of have to.
[People]
---
Iggy Azalea was asked about her boyfriend Nick Young's cheating scandal on The Bert Show, and talked for so long in response that I forgot what the question was.

"I think last year, the year that I had, has kinda taught me maybe it's best to just wait until it's like a little more past tense before you kinda speak about necessarily how you feel about something. Because when you're in the heat of the moment or things are still progressing or coming out and you're getting new information, the way you feel about things can change really quickly. It can go up and down. I'm just kind of still figuring it out."
When asked whether or not they have plans to get married, she continued:
"I really couldn't assign that today. I don't know, who knows? I just have to give it some time."
How Amy Jellicoe of her.
---
---
Images via Splash News.