Thrice the brinded cat hath mew'd. Thrice and once, the hedge-pig whin'd. Harpier cries:—'tis time! 'tis time...for Lindsay Lohan to become a witch!
According to the National Enquirer, Lohan, finally freed from the magical bounds of court ordered community service (possibly), is looking to join a new coven:
Lindsay Lohan has become obsessed with the occult – and the 28-year-old actress wants to be consecrated by a coven as a white witch, sources said.

"She loves the idea of taking control of her destiny and wants to be able to do spells, make potions and read tarot and angel cards," said an insider.

"She thinks it will help her generate more positivity and power in her life."
But what about the time Lohan FAMOUSLY punched a psychic in the face, National Enquirer? Would a huge fan of white witches do that?
LiLo famously punched a psychic in the face in 2012, but friends said the actress is a huge fan of white witches, and had one "cast a spell" to ensure she'd get the role when auditioning for a London production of the play "Speed-the-Plow."
G/O Media may get a commission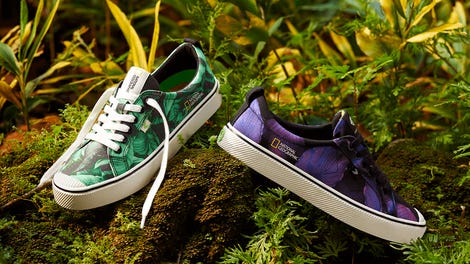 New New New
Cariuma + National Geographic
Naturally, professional fun sucker Gossip Cop is denying Lohan's witchy ambitions, but that, my sisters of the blood moon, is exactly what someone a powerful glamour spell would do. Welcome to the coven, Lindsay!
[ National Enquirer/Gossip Cop]
---
Following Jill Scott and Eve's less than positive discussion of Iggy Azalea, Iggy has responded on Twitter with the humble request that we all stop stereotyping her already. "There's a difference between being yourself and being your stereotype," she tweeted. "When people I've never met say I should act more like 'myself,' I feel like they're really saying "act more like how I sterotype[sic] you to be, so I can feel comfortable.'"
Is assuming that an Australian speaks with an Australian accent a stereotype? Maybe! Either way, I think we all learned something very important today. [ Billboard]
---
You will never see Julianne Moore, light of my life, thanking God when she wins an award because she doesn't believe that God exists. As she told the Hollywood Reporter, "I learned when my mother died five years ago that there is no 'there' there. Structure, it's all imposed. We impose order and narrative on everything in order to understand it. Otherwise, there's nothing but chaos." LIVE YOUR TRUTH, GIRL. [The Hollywood Reporter]
---
Photos via screengrab, AP.