Just in time to celebrate the 25th anniversary of hit '90s teen soap opera Beverly Hills, 90210, Lifetime debuted the latest addition to their biopic series with The Unauthorized Beverly Hills, 90210 Story. As a dedicated Lifetime viewer and 90210 fan, I pulled out my old pair of glow-in-the-dark Dylan McKay boxers and prepared myself for whatever I was about to witness.
The movie opens with Aaron Spelling (played by Dan Castellaneta, aka the voice of Homer Simpson) in his office surrounded by multiple tobacco pipes. Spelling wants to do a reboot of Charlie's Angels, his hit television show from a decade earlier, but the execs aren't having it. They want to develop something that would market to a previously untapped audience: teenagers. Spelling is not into this idea at first. Meanwhile, his daughter Tori (Abby Ross) spends her time relaxing by the pool and going through his briefcase lurking his scripts. She's dying for a part on one of his shows, but everything is catered to adults—but when after she comes across the one for Beverly Hills, 90210, she convinces her father to make the show.
With the show a go, the unauthorized plot unfurls to present its unauthorized takes on the real-life cast. Luke Perry (Jesy McKinney) is shown as a hard-working construction worker who auditions for roles in between laying pavement. He first tries out for the role of Steve Sanders, but doesn't feel the part fits him (he's right). Tori Spelling auditions for the role of Kelly under a pseudonym so nobody knows she's the executive producer's daughter. Nice try, Tori. Abbie Cobb, the actress who plays Jennie Garth, is so convincing, I have to give a shout-out to Lifetime for finally casting someone in one of these biopics that will make fans do a double take. She's been offered the role of something called Hull High, which sounds like an early version of Glee, but wants to hold off in case something better comes along. Gabrielle Carteris (Michele Goyns) is told by her agent she's too old for Hollywood at 30. Jason Priestley (Max Lloyd-Jones) is just coming off of another series and is roommates with Brad Pitt. Pitt isn't shown, but there is a reference to Thelma and Louise.
We learn that Tori Spelling is the one who recommended Jason Priestley and Shannen Doherty (Samantha Munro) for the roles of Brandon and Brenda Walsh to her father. Hmm, Tori apparently held the key to Beverly Hills, 90210's destiny. Shannen and Jason do a read together and are too flirty for "siblings." Everyone gets cast in the show except for Luke Perry, who gets in later when the pilot sucks and Spelling decides the show needs bad-boy Dylan McKay.
Filming begins. Everyone is making out with each other. Luke with Shannen. Jennie with Luke. Brian Austin Green and Tori. Jason and Jennie. Shannen and Jason. AHH, INCEST.
G/O Media may get a commission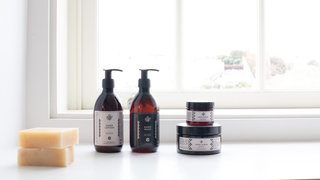 Exfoliate and Hydrate
The Handmade Soap Company
The show isn't doing well for ratings and is on its way to getting cancelled. The producers decide to film a summer season, which is rare. It would feature the gang working and hanging out at the Beverly Hills Beach Club. This turned out to be a genius move, because these episodes changed the entire game. The success of the show skyrockets. Everyone's suddenly uber-famous. Fans start appearing in mobs. There's a scene where Luke and Jason are eating burgers at a fancy restaurant, when in walks President Ronald Reagan to express his fanboi worship of the show.
Meanwhile, Shannen, who has always thrown a 'tude, is starting to get bitchier. She's always late for set and gets into a physical fight with Jennie on set. The cast is pissed and begins complaining to Spelling about Shannen's wild antics. At one point, Ian Ziering (David Lennon) decides to throw her a bone and take her for a ride in his car. He tries talking to her about her issues, which is where Lifetime decides to wink at the audience with a Sharknado reference. "You're acting crazy. You're out of control. You're like a shark. You're like a tornado. You're like a mixture between a shark and a tornado." Real-life Ian Ziering, who has filmed three Sharknado movies, tweeted his reaction to the scene:
Ultimately, Shannen's diva behavior, her continued tardiness and a fight at a club get her fired from the show. Those who were around when the original 90210 aired might remember all of the dramatic tabloid headlines about Shannen Doherty. Both she and her character were Brenda were so hated, extreme backlash materialized in the form of the infamous I Hate Brenda Newsletter, a zine dedicated to hating Shannen and her fictional counterpart. The Lifetime movie even references it, to which "Spelling" responds, "Everyone loves to hate Shannen."
Here's a real, vintage MTV clip video showing fans expressing their disdain for Brenda/Shannon.
"She started off as this sweet girl who came from Minnesota, and all of a sudden her character has developed into this stuck-up bitch," said the newsletter's creator. Other hate stems from Shannen's affiliations with the Republican party. There's even an attack on her bangs! The clip also shows Doherty talking about her upcoming band, "a cross between U2 and Pearl Jam." It made me cringe. Maybe I still hate Brenda to this day.
Here's real Shannen's Twitter thoughts on the movie:
As someone who has watched all of these Lifetime biopics and will continue to do so, I noticed was a vast improvement in wardrobe and makeup in The Unauthorized Beverly Hills, 90210 Story: the wigs are getting much better. We've certainly come a long way since the horrendous rat "Alicia Silverstone" wore on the top of her head in last year's The Brittany Murphy Story. Thank you, Lifetime, for expanding that budget.
Some members of the real-life cast were notably absent from the fictional one, such as the actors who played Mr. and Mrs. Walsh, David Silver's BFF Scott, good ol' Nat from the Peach Pit and cult favorite Emily Valentine. While the movie showed some of the more memorable episodes there were a few blatant changes that fans could notice with our eagle eyes. In the episode where Brenda loses her virginity to Dylan, it's depicted as a winter formal, when in fact it was a spring dance. In the same episode, Brenda and Kelly famously wore the same black and white dress. It would have been funny to have seen the "I'd like to exchange an egg" rave episode and the one where Brenda portrayed a wisecracking, waitress alter-ego named Laverne.
Unlike The Unauthorized Full House Story, the cast's real lives were left mostly out of the picture. We never hear about Luke Perry's marriage to Minnie Sharp, a fan who met Perry when she mailed him her lace bra. That's the kind of legwork people had to do when sliding into DMs was just a twinkle in the internet's eye. There's also no mention of Doherty's six-month long wedding to Ashley Hamilton, who can now be seen on a Kardashians rip-off reality show called Stewarts & Hamiltons. That same year, Shannen was sued by her bank for $36,000 for reportedly bouncing over 70 checks. Finally, there's nary a word about Luke Perry's three Vietnamese potbellied pigs—the result of a pet fad which peaked during the '90s.
The movie ends after the show's fourth season, when Shannen is finally fired. Too bad, because that was around the time when the cast members started appearing in made-for-television movies—ones that actually aired on Lifetime. It could have gone full Lifetime circle if we witnessed Brian Austin Green (Ross Linton) and his then-real-life girlfriend, Tiffani-Amber Thiessen (Alyssa Lynch, who also played the actress in the Saved by the Bell biopic), cast in She Fought Alone, or Tori's appearances in both A Friend to Die For and Mother, May I Sleep With Danger?
All in all, there's no way any of us will be truly satisfied with one of these biopics unless it somehow reaches Selena/J-Lo level. Still, there is some hope for the onslaught of Lifetime unauthorized films; I see it in these higher-quality wigs and convincing blazers. Even though Lifetime may have offended audiences with their previous depictions, perhaps at some point they will reach greatness. The Unauthorized Melrose Place Story is, after all, next week.
Until then, Lifetime may find themselves uttering the poetic words of the great Dylan McKay: "May the bridges I burn light the way"... to more and more unauthorized biopics.
---
Contact the author at marie.lodi@jezebel.com.
Image via Sergei Bachlakov/Lifetime.