After twelve years, Nancy Grace is leaving HLN. Who will now canvass the court dockets of America for perfectly viral cases involving potentially villainous and somewhat conventionally attractive white women is an open question.
The Hollywood Reporter broke the news; she'll stick around until October, when her current contract expires. THR says:

While her ratings are nowhere near the staggering highs of years past — her afternoon broadcast following the reading of famed filicide suspect [Casey] Anthony's not-guilty verdict on July 5, 2011, drew 4.57 million viewers — the lightning-rod legal crusader remains the most-watched and talked-about personality on HLN, averaging 291,000 viewers in May. But that's only enough to rank her show 42nd out of all cable news programs, two spots behind Fox News' Red Eye, which airs weekdays ‪at 3 a.m.
She didn't give much background on their decision and didn't say much about her upcoming plans, other than that her next act will have "a very large digital component" though "I will always be wedded to a traditional platform — which is TV, God help me."
The development offers a great opportunity to take a look back at the Mr. Toad's Wild Ride that has been this woman's career thus far.

G/O Media may get a commission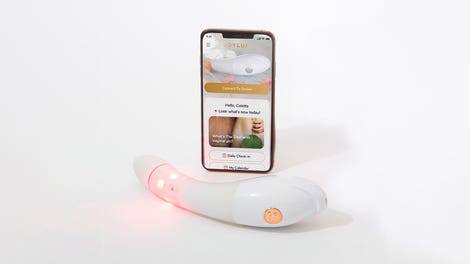 $50 Off
Joylux vFit Gold Device
Her origin story goes that, when she was 19, Nancy Grace's fiancé was killed in workplace dispute, and she chose to devote her life to fighting crime, first as a hard-charging prosecutor in Atlanta and eventually, more nebulously, as a "tireless advocate for victims' rights and one of television's most respected legal analysts," according to her official bio on HLN.
But she got her start in the entertainment business specifically with—what else?—the O.J. Simpson trial. One of the army of talking heads conscripted to fill all the airtime dedicated to sating the public's seemingly bottomless curiosity about the case, she quickly became a breakout star, helping to feed the frenzy. Here she is, being introduced as a "first-time guest to Rivera Live." That is some very circa-1995 Southern hair, right there.
After the trial, Court TV enlisted her for a TV show with—who else?—Johnnie Cochran. The New York Daily News explained the concept behind Cochran & Grace in 1997:
But his primary mission in New York remains making "Cochran & Grace" a success. The one-hour live show, which airs at 10 p.m., pits the pro-defense, civil-rights-oriented Cochran against the Georgia-born, law-and-order-loving ex-prosecutor Nancy Grace....

The idea for the show was hatched in July, when Court TV's then-President Steven Brill heard Cochran and Grace "getting into it" at the network's fifth anniversary dinner party. "He said, 'What a great idea for a show,' and we started talking," said Cochran.
She spun it a little different in a 2005 interview with Larry King: "I knew Johnnie Cochran well, because he had all the fame, he had all the charm," she said. "I was just the nobody prosecutor from Atlanta, Georgia, that they tagged onto the famous Johnnie Cochran." Who, little old me?
Cochran left, and Court TV moved her to doing trial coverage. You can see glimpses of the modern-day taking shape Nancy Grace in the introduction to this (truly amazing) Court TV clip from sometime in the 1990s. She waxes about how dangerous sporting events have gotten and how out of control fans are getting, then cuts to a frankly rather droll report about a couple busted for public lewdness at a Buffalo Bills football game. Then she reappears at the end to shout "Ban 'em!"
And of course she honed her signature facial expressions, a key part of her persona, which infuse her coverage with the same vibe as a phone call from a churchgoing Southern mama that starts with, "You're not gonna believe this."
Particularly that thing she does with her eyebrows. You know the thing. The punctuation thing.
Meanwhile, she seemingly never missed an opportunity to provide her two cents on any controversial case being covered by the supermarket weeklies, as well as spending a good bit of time on Larry King Live.
Finally, in 2005, she got her eponymous show on what was then CNN Headline News. Nancy Grace launched in February; recent Alabama high school graduate Natalee Holloway went missing in May 2005. The TV show quickly became a hit, and its host grew even more famous for her aggressive interviewing style, uncanny ability to sniff out local stories with potentially massive national interest (the common denominator often being young white women) and, shall we say, distinct lack of uncertainty.
Her approach has sometimes not been appreciated by the very victims for whom she claimed to advocate. In one interview, Elizabeth Smart told her outright that she didn't want to discuss the gruesome details of her abduction, informing her that "I really don't appreciate you bringing all this up."
But it was the aforementioned Casey Anthony and Jodi Arias cases that really made her name. Casey Anthony in particular became the perfect foil for Nancy Grace, who chronicled every detail of the trial, with loving emphasis on Anthony as party girl. In fact The Wrap gave her credit for catapulting Anthony into the national spotlight: "Led by Nancy Grace, the entire cable landscape — and now the broadcast news networks — seem to have gotten drunk on the Casey Anthony trial." And her reaction to the Anthony not-guilty verdict is one for the record books: "The devil is dancing tonight," she pronounced.
It got millions and millions of people watching, but her headlong approach has had plenty of critics, too. New York Times media critic David Carr lit Grace up in a column in 2011, just as the Anthony case was getting going:

I have no issue with true crime, as long as it is true. Ms. Grace, a former prosecutor in Atlanta who was reprimanded for stepping over a line more than once, obliterates lines every night on "Nancy Grace." Working with a contingent of experts who have all the independence of a crew of trained seals, Ms. Grace races toward judgment, heedlessly ignoring nuance and evidence on her way to finding guilt.
If anybody can make a go of some nebulous new gig with "a very large digital component" (common industry speak for, "uh, TBD!"), it's Nancy Grace, who might have gotten her start in the tabloid infotainment days of the mid 1990s but could have been designed in a lab to create perfect stories for your deeply concerned great aunt to post on your Facebook wall. But let's keep our fingers crossed that Grace has accepted her destiny to launch a weed lifestyle site with 2 Chainz. It could happen, right?
---