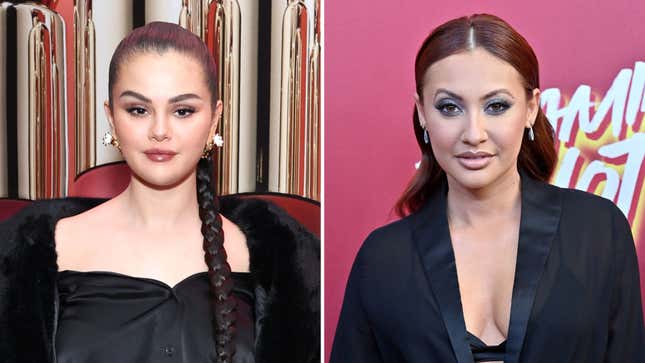 There's nothing more thrilling than following celebrity organ donation drama, amirite? In this week's episode of "I Donated a Kidney to My Best Friend Who Then Negged Me in the Press," we've got a mysterious birthday post, a paparazzi semi-confession, and a potential reconciliation. Let's dig in.
On Thursday, How I Met Your Father actor Francia Raisa was minding her own business and walking her dog when a TMZ staffer started heckling her, asking things like, "How was your birthday?" and "Do you and Selena Gomez still have beef?" Raisa had just turned 35 on Wednesday, and you'll recall that her and Gomez's friendship—once medically intertwined, because Raisa donated a whole-ass kidney to Gomez—had turned into a "feud." But Selena's Instagram, curiously, now says otherwise.
On Wednesday, Gomez posted a carousel of three photos of her and Raisa in honor of the actor's birthday. "Happiest of birthdays to this special human being. No matter where life takes us, I love you. ❤️ @franciaraisa," she wrote.
In any other world, this might be a perfectly unimaginative birthday post for a good friend. But given the duo's rocky history, this feels more like an olive branch?? Taking you back to the beginning for a moment, Raisa and Gomez's friendship began in 2007 when both budding Hollywood mainstays were dating Jonas Brothers, and they remained fast friends as both of their stars began to rise. A decade later, Raisa donated her kidney to Gomez, who was struggling with lupus. "There aren't words to describe how I can possibly thank my beautiful friend Francia Raisa. She gave me the ultimate gift and sacrifice by donating her kidney to me," Gomez wrote on Instagram that year. "I am incredibly blessed. I love you so much sis."
Fast-forward to 2022, as Gomez's Apple TV+ film My Mind & Me, which recounts the singer's struggle with her physical and mental health as a touring artist, is about to drop. But on the night of the release, in a profile promoting the film, Gomez told Rolling Stone that she "never fit in with a cool group of girls that were celebrities," noting that Taylor Swift is her only friend in the industry. Raisa—previously billed as one of Selena's closest industry friends, regardless of the kidney of it all—seemed to take offense to this apparent shade, as anyone in her situation might.

Things got a little dicey when E! News posted Gomez's comment on Instagram, to which Raisa commented, "Interesting." She then unfollowed Gomez. Raisa has since deleted the comment, but Gomez responded on the same post, "Sorry I didn't mention every person I know."

Though any other developments to the feud were kept largely out of the public eye, according to Us Weekly, Gomez went on to mention Raisa in a March episode of the Apple TV+ docuseries Dear…: "I will never ever, ever, be more in debt to a person than Francia," she said in the episode, which aired in March. "The idea of someone not even second guessing to be a donor was unbelievably overwhelming."

Now, back to the present: TMZ reports that after Gomez put up Raisa's birthday post, Raisa followed her back for the first time since the initial kidney beef. And while Raisa repeatedly laughed off the TMZ cameraman's hounding about the matter, she finally relented, "There's no beef, guys…It's a new year."

Sounds like this beef has finally been taken out with the trash. Happy for these two bosom (kidney) buddies!