I first learned about Selena Gomez's secret summer kidney transplant while browsing Gossip Cop this morning. After reading "Selena Gomez Had Kidney Transplant, Friend Donated Organ" in their upper story carousel, I thought, Hmmm, weird for them to not put 'is FAKE NEWS' at the end of that headline, per their house style. But after clicking I learned why: because the dang story is a straight up a fact. Just look at their rumormeter:

Few experiences are as satisfying as a bit of celebrity news being declared Level 10 Real by the officers over at Gossip Cop, but here's one thing that probably comes close: having your friend literally save your life by offering you her kidney.
Selena Gomez surprised her 126 million Instagram followers early Thursday morning by sharing that news that she had a kidney transplant over the summer due to complications stemming from her battle with Lupus. Because no one in her family was a match, she revealed, the kidney came from her friend Francia Raisa—who seems amazing, I mean my god.
While Gomez will likely share more details about the secret operation in some glossy mag or to Robin Roberts, for now we just have the details provided in her Instagram caption, which reads:
I'm very aware some of my fans had noticed I was laying low for part of the summer and questioning why I wasn't promoting my new music, which I was extremely proud of. So I found out I needed to get a kidney transplant due to my Lupus and was recovering. It was what I needed to do for my overall health. I honestly look forward to sharing with you, soon my journey through these past several months as I have always wanted to do with you. Until then I want to publicly thank my family and incredible team of doctors for everything they have done for me prior to and post-surgery. And finally, there aren't words to describe how I can possibly thank my beautiful friend Francia Raisa. She gave me the ultimate gift and sacrifice by donating her kidney to me. I am incredibly blessed. I love you so much sis. Lupus continues to be very misunderstood but progress is being made. For more information regarding Lupus please go to the Lupus Research Alliance website: www.lupusresearch.org/ -by grace through faith

G/O Media may get a commission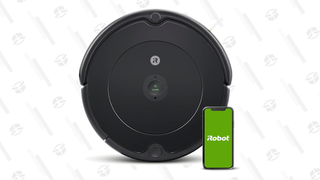 35% Off Black Friday Deal
iRobot Roomba 694 Robot Vacuum
Can you believe an A-list celebrity was able to do something this major this privately? [Hannibal Lecter voice] I myself cannot.
---
Angelina Jolie's new movie First They Killed My Father will drop on Netflix this week, but First She's Promoting the Hell Out of It. Outlets like People and The New York Times are luring readers in with the promise of finding out something juicy about her divorce from Brad Pitt only to get the old bait 'n' switch. Wait, she directed a movie? people will think after reading this NYT profile. Where's the tea about Brad's newfound passion for sculpture?

Alas, you have been owned. The most you get about Mr. Pitt (whose 2017 Netflix movie was considerably less publicized) is below:
I asked Ms. Jolie if she ever felt like the coach of a small team, and she replied that more often she felt part of a fraternity.

"They really help me so much. We're really such a unit," she said. "They're the best friends I've ever had. Nobody in my life has ever stood by me more."
Burn!!! Oh, not really. Moving on:
"It took me a few months to realize that I was really going to have to do it. That there was going to have to be another base regardless of everything," she said, her voice falling quiet and low, as it would each time the subject of the split arose. "That there was going to have to be a home. Another home."
Oh shit!!!! Never mind. And now:
"I never expect to be the one that everybody understands or likes," Ms. Jolie said, walking me down her driveway, "And that's O.K., because I know who I am, and the kids know who I am."
Fin.
[NYT]
---
Olivia Munn is very funny.

---