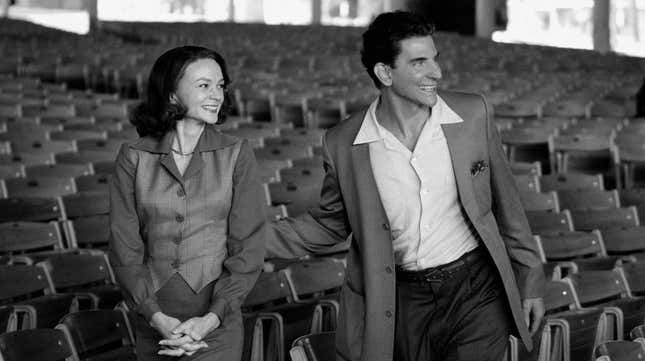 Every so often, an iconic Jewish role comes along that's clearly begging for an iconic Jewish actor to bring it to life. Instead, Hollywood—the same Hollywood that conspiracy theorists and antisemites would have you believe is "run" by my people, the Jews—hands the role to a conventionally handsome WASP-y actor, who does his very best to method act his way into an honest representation of a Jewish person. It's not evil per se, but it's not great, either. And while the diaspora of Jews is not a monolith, this Jew would love to see real Jews (Half Jews! Patrilineal Jews! Sapphardic Jews! Converted Jews!) stepping into those particularly iconic roles, instead.
We now find ourselves debating whether or not famously non-Jewish actor Bradley Cooper should wear a large prosthetic nose in his portrayal of famously Jewish composer Leonard Bernstein. Though I guess the "should" of it all is no longer up for debate, given that the trailer for the Netflix film about Bernstein's life and romance with Felicia Montealegre Cohn Bernstein, titled Maestro, dropped Tuesday, and the prosthetic nose is very much a go.
As Page Six documented, the internet has since been ablaze with polarizing opinions about this latest use of Jewface, in which an actor's physical appearance is altered to present a stereotyped representation of Judaism. But on Wednesday, Bernstein's three children, Jamie, Alexander, and Nina, voiced their support for Cooper and his prosthetic nose, asserting that they'd been heavily involved in the development process and that Cooper had been nothing but respectful of their heritage along the way.
"We were touched to the core to witness the depth of [Cooper's] commitment, his loving embrace of our father's music, and the sheer open-hearted joy he brought to his exploration," the children said in a statement posted to that Elon Musk site formerly known as Twitter. "It breaks our hearts to see any misrepresentations or misunderstandings of his efforts. It happens to be true that Leonard Bernstein had a nice, big nose. Bradley chose to use makeup to amplify his resemblance, and we're perfectly fine with that."

The trio also maintained that their father, who died in 1990, "would have been fine with [the prosthetic nose] as well."

"Any strident complaints around this issue strike us above all as disingenuous attempts to bring a successful person down a notch—a practice we observed all too often perpetrated on our own father," they went on. "At all times during the making of this film, we could feel the profound respected and yes, the love that Bradley brought to his portrait of Leonard Bernstein and his wife, our mother Felicia."

In this particular case, if the family is happy with their father's portrayal, then I'm fine to call off the attack dogs. I'm thrilled to hear the nose was crafted with full buy-in and thoughtfulness from Bernstein's descendants, and it certainly doesn't hurt when Steven Spielberg and Martin Scorsese are involved (they're both signed on to produce). But that doesn't take away from the fact that Jewface is an ongoing, systemic problem in media, and that those who feel hurt, betrayed, or other-ed by a choice such as this one deserve to be seen and heard.

It was also quite interesting to hear that Jake Gyllenhaal, who is half Jewish and had treasured Bernstein's legacy for decades, had also been in the running to secure the rights to Bernstein's life story. However, according to The Independent, the composer's estate overlooked Gyllenhaal's bid in favor of Cooper's, who also co-wrote the script and is directing the film.

"No one likes to admit this, but, we got beat at our own game," Gyllenhaal told Deadline in September 2021. "And that story, that idea of playing one of the most preeminent Jewish artists in America and his struggle with his identity was in my heart for 20-some-odd years, but sometimes those things don't work out. In this business, if you're lucky enough to stick it out for a while, we can easily forget that getting to tell the story isn't the most important thing."

In this situation, I'll just have to settle for the uncomfortable conclusion that sometimes, two things can be true at once: The use of a prosthetic nose to portray a caricature of Jewishness can hurt its real Jewish audience members, and perhaps the use of a prosthetic nose can be done in a loving and respectful way with the blessing of Jewish family members involved.
Besides, I do love to see representation of "nice, big nose[s]" on the big screen, prosthetic or not.