Professional semi-endearing obnoxious person Howard Stern has backtracked (not apologized, he clarifies) from ragging on professional semi-endearing obnoxious person Lena Dunham. After Girls co-star Jemima Kirke tipped Dunham off that Stern had called her "a little fat chick who sort of looks like Jonah Hill and keeps taking her clothes off," she called into his show yesterday to discuss their beefs and they discovered they're really not that different, after all. "I don't even know where to begin with all of this," he said. "The reason I felt so awful was because when Perez Hilton wrote his article, he told half the story... I started to compare you to Woody Allen... the whole thing came together for me."
She told him that she'd remain his fan regardless of how he felt, to which he responded: "I realize: not only am I addicted, but I totally get you. I'm in love with you and your character." Dunham: "I'm not that fat. I don't mean to take major issue with you about this. I'm not super-thin, but I'm thin for, like, Detroit."
"You're not obese or anything," he allowed.
SO LET IT BE WRITTEN. [Page Six, Us Weekly]
---
Today on the noted game show Real Life or Portlandia?, Skrillex leaned over his birthday cake and set his dumbass scene haircut on fire. Back to you, studio. [TMZ]
---
G/O Media may get a commission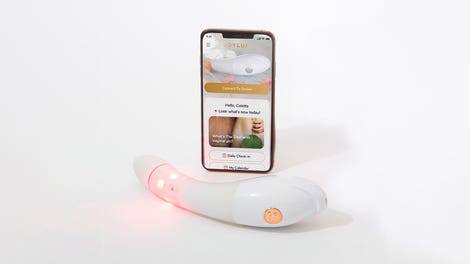 $50 Off
Joylux vFit Gold Device
Highlights (mostly lowlights) from Jessica Simpson's appearance on Leno, who says that her second pregnancy WAS planned. By the Lord. ("It's just God's plan for my life.")
"The last time I kind of ate everything in sight. I guess I didn't realize you could gain that much weight that quickly … (I gained) a lot more than probably doctors recommend."

"I think [Weight Watchers] were as shocked [at the second pregnancy] as I was. But they were really supportive."
On the delayed wedding to fiancee Eric Johnson: "He keeps knocking me up! I'll just keep my legs crossed, I guess, this time." Hurk. WHEN is the last time she sang? Like, is she not basically a Kardashian at this point? [NYDN]
Although her family-oriented sitcom is nigh, she still wants nothing to do with dad Joe. [Radar Online]
---
Right before the Golden Globes, Robert Pattinson and Kristen Stewart went on another "break," Pattinson's call. He wants to just be "good friends" so they can "focus on Twilight," the most important franchise of our time. On the next episode, he sleeps with the cute Xerox girl, and Kristen totally finds out (Audience track: Oooooooooh), and she's really mad, but he's all, "WE WERE ON A BREAK!!!!!11" (Audience track: ROFL!) [The Sun]
---
Comcast, which owns E! and NBC, slapped Chelsea Handler on the wrist after she made a joke sort of about Al Roker's pooping himself at the White House but mostly about Matt Lauer being an asshat: "This isn't the first time a Today show cast member was in the news about this sensitive subject. For years it was common knowledge that Matt Lauer spent every morning shitting all over Ann Curry."
Chelsea's writers were warned to lay off Matt [Lauer]. They don't want them making more fun of Matt and the Ann Curry situation right now." Lauer's been a public target since Curry was canned as co-host of "Today" and replaced by Savannah Guthrie.
[Page Six]
NBC reportedly wants Ann Curry off the air for six months. [Radar Online]
---
"That is a black African python. She's really nasty. Two years ago, one of those ate an 11-year-old boy in Africa." —Totally normal Tracy Morgan lives in a completely average house in New Jersey. [Page Six]
---
Las Vegas casinos are bidding on headliner Britney Spears. [TMZ

Carrie Underwood and Taylor Swift are tributes from District Blonde Country Crossover fighting to the death "not close." [Radar Online]

YES. Gina Gershon did some Everclear Jell-O shots and, um, "sang" a song by The Carpenters. [TMZ]

Elsewhere, Dita Von Teese sang and it wasn't as fun as Gina Gershon singing. [World of Wonder]

If you're in Austin:

We've learned Little Woodrow's in Austin is having a "Watch Oprah Ride Lance" viewing party.

We call that "class," ladies and gentlemen. [TMZ]

Professional senior citizen shit-stirrer Betty White turned 91 yesterday. [HuffPo]

Ellen Page got a 3-year restraining order against a stalker, Joshua Michael Myers. [TMZ]

You can stay on my pull-out couch, Cuba Gooding Jr.! [Page Six]

Sofia Vergara and Reese Witherspoon got tea in Beverly Hills and maybe discussed making a movie together. [Page Six]

Jamie Lynn Spears' boyfriend Jamie Watson: "I asked her the other night what the hell is taking so long." IN BED. BAM. No but actually he was referring to her stalled country-singing career. [Page Six]

Pretty Chace Crawford kissed a pretty girl at a bar and it was pretty. So pretty! [Page Six]

Kim Klardashium wants to be divorced from what's his name already. [People]

Connie Britton: "I never knew I could feel so guilty when I work 16 hours and I really don't get to spend enough time with my son. It's awful." Connie! She once came into my coffee shop and I took a creepy stealth-picture of her amazing UNICORN MANE. [People]

Emma Roberts introduced her boyfriend, American Horror Story's Evan Peters to her Aunt Julia Roberts, who I guess is a gaffer or craft services person or something?? [Us Weekly]

In the devastating wake of Bieberloss, Selena Gomez is already holding hands with a guy named Luke Bracy. [Us Weekly]

Here is Shakira and her baby bump in tasteful black and white. [Us Weekly]

Leann Rimes is sometimes afraid that Eddie Cibrian will cheat on her since he cheated with her. Double bind, that. And she mentions half-considering suicide last year when she checked into an inpatient facility. :-( [ABC News]

Tatyana Ali cries three times a day to "reduce bloating" and work on her core. Her favorite things are "bread pudding with chocolate and one night stands." Wait, she's awesome. [NYDN]