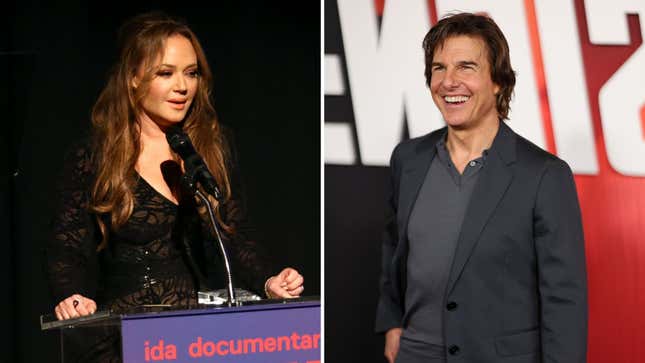 On Wednesday, Leah Remini, actress and longtime anti-Scientology activist, filed a 60-page lawsuit against the controversial institution and its leader, David Miscavige. Among allegations that she's been "stalked, surveilled, harassed, threatened," and "intimidated," Remini has accused Scientology of a series of stunning abuses that amount to what she describes as "psychological torture."
"After 17 years of harassment, intimidation, surveillance, and defamation, I am filing a lawsuit against Scientology and David Miscavige," Remini wrote alongside a press release for the suit on Instagram. "While advocating for victims of Scientology has significantly impacted my life and career, Scientology's final objective of silencing me has not been achieved. While this lawsuit is about what Scientology has done to me, I am one of thousands of targets of Scientology over the past seven decades."

While the suit is aimed squarely at Scientology and Miscavige, another longtime member and one of the latter's most influential allies, Tom Cruise, is mentioned a number of times in the filing. Remini, who refers to the actor as "essentially second in command" of the institution, alleges that her status as a Scientologist was forever altered at Cruise's 2006 wedding to Katie Holmes when she questioned the whereabouts of Miscavige's wife, Shelly.
"When Ms. Remini asked a group of Scientology executives and Tom Cruise's personal handlers...'Where is Shelly?' she was immediately admonished by the group, despite the fact that she and Ms. Miscavige were good friends," the filing claims. "It is a High Crime in Scientology to criticize [Tom] in any way," the suit notes.
A Scientology spokesperson did not immediately respond to Jezebel's request for comment.
Remini has since dedicated entire episodes of her A&E series to her investigation of Shelly's abrupt absence from public life—the church leader's wife hasn't been seen in public since 2007—and has mentioned it innumerable times in the press. In November, a Twitter thread of Remini's detailing how she filed a missing person's report for Shelly in 2013 went viral, and a Scientology spokesperson told People her probe was "nothing more than [a] publicity stunt for Ms. Remini, cooked up with unemployed anti-zealots." In 2019, a church attorney told the Daily Beast that he'd personally met with Shelly. The LAPD has since closed the case.
But the extent of Scientology's alleged retaliation against Remini as she details in her lawsuit is, frankly, unsettling. "Ms. Remini witnessed other behavior at the wedding that set off red flags for her, including unethical contacts between various Scientology executives and others at the wedding which she understood to be forbidden by Scientology teachings," the suit claims. When she then expressed her concerns via a written "Knowledge Report," she says officials sent her to the "spiritual headquarters of Scientology" (known as the Flag Land Base, or FLAG) in Clearwater, Florida, where she was to "undergo a quick 'ethics cycle.'"
"Upon arrival, Ms. Remini was presented with dozens of internal reports from Scientologists complaining about her behavior at the wedding. It was clear to Ms. Remini that she was being punished for asking where Shelly Miscavige was and for filing reports on David Miscavige and others," the filing alleges. "Ms. Remini was held at FLAG for four months while she was put through a process that cost her hundreds of thousands of dollars and nearly led her to have a psychotic breakdown."
Following "months of psychological torture," Remini says she then relented and rescinded all of her reports, despite her internal feelings on the matter. Additionally, Remini alleged she was to make good with Cruise, which included giving donations to Scientology-related causes: "For example, she was forced to donate money to name a seat in a theater after Suri Cruise and was to raise money for donation to Scientology causes led by Tom Cruise," the suit states.
Other claims in the filing include Remini's allegation that shows that had invited her to appear as a guest—Late Night with Conan O'Brien and Anderson Cooper's broadcast on CNN—were threatened by the church, and that Scientology operatives sought out a mentally ill homeless man to stalk and harass her. According to Remini, it's a common Scientology practice to recruit "individuals with mental illness or who are homeless or addicted to drugs, and other vulnerable people in order to harass its enemies."
"Upon information and belief, provided by former top Scientology operatives, Defendants armed this man with a vehicle and money to stalk and surveil Ms. Remini," the suit claims. "Over the course of several weeks, at Defendants' behest, this man rammed his car into the security gates of Ms. Remini's community and asked residents for Ms. Remini's address, saying he was waiting to get into her house, falsely claiming he had been there several times before, and that he needed to get a bigger ladder in order to reach her bedroom window." The man was arrested, released, then arrested a second time in 2020.