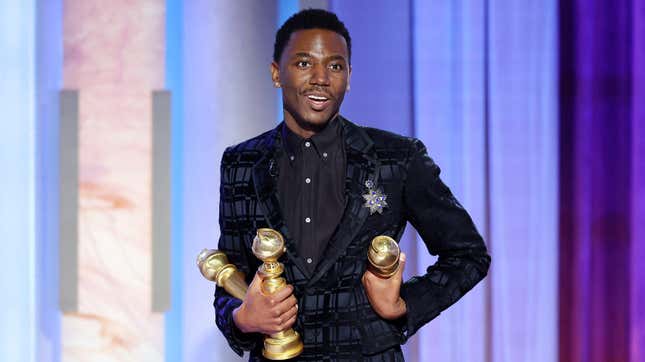 If, like me, you spent much of Tuesday's 80th Golden Globes scanning Twitter, you probably noted that its host, Jerrod Carmichael, received some mixed reactions. During the ceremony, the comedian told the audience to shut up, made a new joke about The Slap™, and spent much of his monologue reminding viewers why he was hired for the not-not-racist Hollywood Foreign Press Association-helmed show in the first place: "I'm here 'cause I'm Black."
Taylor Lautner Doesn't Even Remember Saying 'Bella! Where the Hell Have You Been Loca?'
In this girl's book, though? Carmichael scored even more points when he dared to mention the wife of a certain terrifying institution's leader. In case you stopped watching after the first award, midway though the ceremony, the host returned from a commercial break, toting three statues in his hands. "Backstage, I found these three Golden Globe Awards that Tom Cruise returned," Carmichael began. "Look, I'm just the host briefly, whatever, but I have a pitch: I think maybe we take these three things and exchange them for the safe return of Shelly Miscavige?"
Invoking Scientology's She-Who-Must-Not-Be-named elicited "shocked gasps," per reports. I know! How dare this man mention a woman who hasn't been seen in public since 2007!
Now, in the event that you've never heard her name (unlikely), Shelly is (was?) the wife of the Church of Scientology leader, David Miscavige. For nearly two decades, questions have swirled surrounding Shelly's whereabouts. In 2013, former Scientologist and friend of the Miscaviges, actress Leah Remini, filed a missing person's report with the Los Angeles Police Department after she left the institution. She's since dedicated entire episodes of her A&E series to her investigation, mentioned it innumerable times in the press, and wrote viral Twitter threads about Shelley's disappearance from public life.
Meanwhile, David Miscavige has not addressed his wife's whereabouts, but Scientology spokespeople have commented on a number of stories about the matter. In 2013, a church spokesperson told People: "She is not a public figure and we ask that her privacy be respected." Of Remini's missing person's report, the spokesperson said it was "nothing more than [a] publicity stunt for Ms. Remini, cooked up with unemployed anti-zealots." Five years later, a church attorney told the Daily Beast that he'd personally met with her. The LAPD, too, has since said that they found Shelley to be alive and well.
Naturally, Remini had some thoughts on Carmichael's joke. Moments after, she responded via Twitter, writing, "Thank you Jerrod Carmichael! Where is Shelly??"

Tom Cruise, a noted friend of the Miscaviges, was not present at the ceremony, given that he publicly disavowed the HFPA in 2021 for its lack of diversity. And as Carmichael noted, the Top Gun: Maverick star and Golden Globe nominee returned three of his awards in protest.
Scientology spokespeople have not commented on the gag, but knowing them, it's only a matter of time. The Church could just show us a recent photograph of Shelly. A video, perhaps? Hell, she could just respond herself. Until then, I'm with Remini. Where is Shelly??