Four women have accused filmmaker Paul Haggis of sexual assault. Leah Remini and Mike Rinder, co-hosts of A&E's Scientology and the Aftermath, have now come forward to defend Haggis, a former Scientologist and outspoken critic of the Church.
In an open letter posted on Rinder's website Monday, Remini and Rinder imply that the accusations against Haggis are likely trumped up stories from his Scientology file, and a deliberate persecution from the Church. Scientologists regularly confess to real or perceived transgressions, and many who have left the organization state that their fear of having their secrets revealed controlled them:
With the name of everyone one might have thought of, flirted with or taken on a date, it takes little imagination to conjure a string of accusers being contacted and suddenly appearing out of the woodwork.

We expect the next "revelations" about Paul Haggis in this campaign to destroy him to be based on information culled from his scientology files in the form of more "anonymous" accusers, hiding behind a lawyer who will never have to disclose who is paying their bill.
According to The Hollywood Reporter, Haggis left the Church in 2009 after 35 years. Screenwriter of Million Dollar Baby and Crash, Haggis was one of the most prominent people to speak out against the organization at the time, having also formerly served as their spokesman. He recently appeared on an episode of the A&E show and in the HBO documentary about Scientology, Going Clear.
Aside from their conspiracy theory, Remini and Rinder's letter is depressingly familiar. They write that they have themselves handled cases of sexual assault in their work, yet avoided "trial by media."
G/O Media may get a commission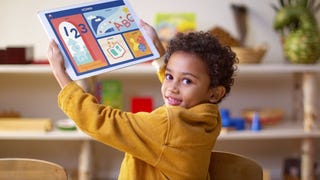 30-Day Free Trial
Homer Learn & Grow Program
"In this time of heightened awareness of sexual predators, it is easy to remain quiet when an injustice is being perpetrated for fear of being tarred as politically incorrect," they write. "But more important to us than being politically correct is standing up for what we believe is right."
According to Remini and Rinder, Haggis is a "good man who has been a friend to us and so many others." They do admit he is "not perfect," but insist he is "truly a gentleman. A gentle man, with impeccable manners and a generous heart."
They also state that it is not a "crime to flirt" nor to have "sexual relations" with someone. They ask that Haggis be judged only "when all the evidence has been taken under penalty of perjury in a court of law. Because claims of anonymous accusers who have NOT gone to law enforcement are not credible."
The accusations against Haggis came out earlier in January after a former publicist filed a civil lawsuit against him for rape. Three other women also came forward with accusations, speaking anonymously with the Associated Press and describing assaults that allegedly took place between 1996 and 2015. Haggis denied all accusations in a statement from his lawyer. He also condemns his accusers anonymity and implicates Scientology, saying, "Mr. Haggis also questions whether Scientology has any role here, which he notes has been attacking him for years with false accusations."