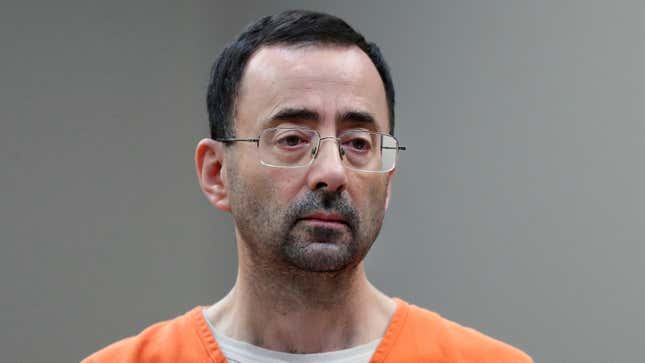 Larry Nassar—the former doctor who was sentenced to decades in prison for sexually abusing young female gymnasts at Michigan State University and in his position on the USA Gymnastics team—was stabbed 10 times on Sunday inside the United States Penitentiary Coleman, according to the CNN.

Joe Rojas, correction officers' union president, told CNN that the former doctor was stabbed two times in the back, six times in the chest, and twice in the neck. Rojas told the network that Nassar is now in stable condition. An internal source told CNN that Nassar was transported to a hospital; it's unclear if he's returned to the prison facility.
The Bureau of Prisons confirmed the fight. "On Sunday, July 9, 2023, at approximately 2:35 pm, an inmate was assaulted at the United States Penitentiary (USP) Coleman II, in Sumterville, Florida. Responding staff immediately initiated life-saving measures. Staff requested Emergency Medical Services (EMS) and life-saving efforts continued," the federal agency said in a statement to CNN.
One hundred fifty-six women testified about Nassar's decades of abuse during his months-long trial between 2017 and 2018, including Olympians McKayla Maroney, Simone Biles, and Aly Raisman. He was eventually convicted on three separate state and federal charges, including receiving child pornography and sexual assault of a child, and sentenced to between 40 to 175 years in prison. (His horrific abuse stretched back to 1998 and began when the victims were as young as 6 years old.)
In January 2018, Michigan Judge Rosemarie Aquilina told Nassar it was her "honor and privilege to sentence" him to "wither" in prison. "I just signed your death warrant," Aquilina said. Her comments gave him grounds to appeal the case, but it was eventually rejected by the Michigan Supreme Court in June 2022 because Aquilinia didn't stray from the plea agreement. "We decline to expend additional judicial resources and further subject the victims in this case to additional trauma where the questions at hand present nothing more than an academic exercise," the court wrote in a two-page order.

"It's over. ... Almost six years after I filed the police report, it's finally over," Rachel Denhollander, the first woman who publicly accused Nassar, tweeted after his appeal was rejected.
More than 100 women, including Biles, collectively sought more than $1 billion from the federal government for the FBI's failure to stop Nassar when agents became aware of allegations against him in 2015. He was arrested by Michigan State University police in 2016, more than a year later.

Similarly, Michigan State was accused of ignoring allegations and complaints against Nassar and agreed to pay $500 million to over 300 victims in 2018. USA Gymnastics and the U.S. Olympic and Paralympic Committee reached a $380 million settlement with survivors in 2021.