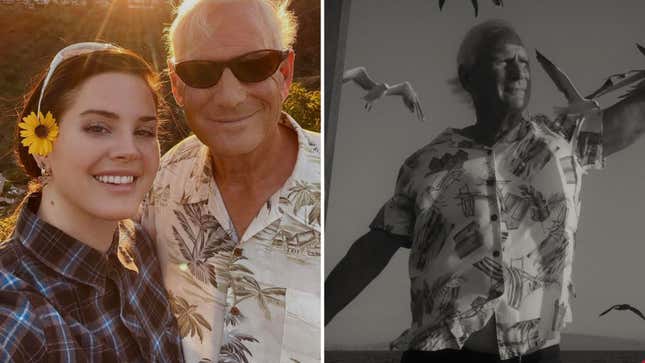 Lana Del Rey's dad isn't like the other dads. He's a cool dad. He's a musically inclined dad. And he wants you to call him "Nepo Daddy."
Betsy Wolfe Reveals the 'Most Embarrassing Thing That's Ever Happened' to Her on Stage
Unfortunately, I am dead serious. In a new GQ profile—yes, Daddy Del Rey got his own GQ profile—Del Rey and her 69-year-old father, Rob Grant, hopped on a yacht to sail up the Hudson River, talk incessantly about boats, and attempt to explain why the hell this man is launching a music career on the backs of his daughter and her industry connections. (To be clear, we always support a late-bloomer, but side eye must be inserted when the famous are famous-ing.)

Grant is currently on the publicity train—er, yacht—to promote his upcoming album Lost at Sea, due out June 9th. GQ calls the effort a "wholly intriguing, unexpected debut album, where transportative piano chords meet a trippy ambient soundscape." Lana's voice is featured on the songs "Hollywood Bowl" and the title track "Lost at Sea," and the album was produced and shaped by Luke Howard and mega-producer Jack Antonoff, who also collaborated with Lana on her most recent album. In other words, Grant pulled out the big guns, as nepo daddies are wont to do.
Before his budding music career, Grant had been an advertising guy, a domain developer, and a "big boat guy" who loves to sail the Gulf of Mexico. He'd also been a huge supporter of his daughter's music career—emotionally and, according to some reports, financially (though the owner of the record label that first signed Lana in 2007 has said they never received money directly from Grant). Interestingly, Lana now seems more than happy to lend a helping hand to her father, who has fully embraced the "Nepo Daddy" title…and turned it into merch. He first saw the term in his Instagram comments, then immediately turned around and registered the domain name.
"Nobody wants to give anyone any credit for doing anything," Grant adds. "God forbid that you actually have talent. People don't want to acknowledge that. They will find a way to undermine you and to really make you feel bad about yourself. So the nepo daddy thing, I love that. Hell, I'll sell you hats, T-shirts, canvas bags, you name it…I'm happy to be the first nepo daddy."

In promotional materials, Grant has described himself as "an accidental recording artist" who had never taken an instrument lesson in his life and cannot read sheet music. Although, he did try to become a country star when Lana was 11 years old by heading to Nashville with a song he'd written titled "Big Bubba." It didn't pan out. But it's all good! Because now the music simply comes to him, somehow!

"...when he sits down at a piano, notes flow from him. Melodies come unbidden," the album's press release reads. "He can play for hours. Emotion overwhelms thought, and out pours composition after composition." It's giving Beethoven!

Grant hasn't yet announced if he'll be going on tour, but he did tell GQ he'd be interested in opening for his daughter in a tropical shirt. "It's so cool to create music with my daughter," Grant added. "Because we really are very simpatico."
And probably also because she's got the good connects. Still, big ups to our first Nepo Daddy!