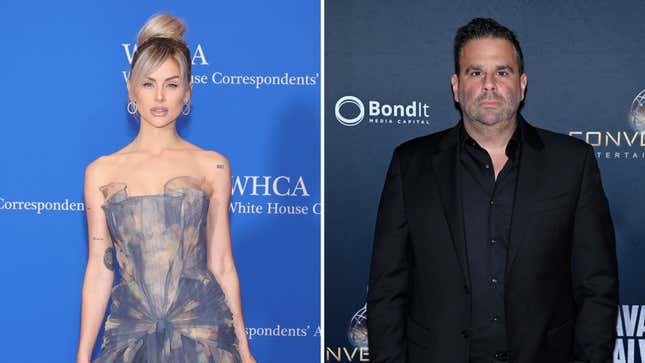 It's been nearly one year since misconduct allegations first surfaced against Randall Emmett—the ex-fiancé and baby daddy of Vanderpump Rules' Lala Kent. But if Hulu's upcoming documentary The Randall Scandal: Love, Loathing and Vanderpump is any indicator, the floodgates have only just begun to open.
Celebs Barely Pass Yearly Assignment to Google the Met Gala Theme
Set to premiere Monday, May 22nd, according to the Los Angeles Times, the documentary features interviews with Kent, Kent's family, a high school friend of Emmett's, and some of the former assistants who alleged that Emmett verbally abused and harassed them in the workplace. But Emmett, speaking about the documentary for the first time, told Page Six Tuesday that he "declined to participate" in the film because he believes it to be based on a "vindictive hit piece."

"Almost one year ago the Los Angeles Times wrote a highly biased and factually inaccurate hit piece on me," the 52-year-old, who shares 2-year-old daughter Ocean with Kent, said in a statement to Page Six. "One of the writers, Amy Kaufman, seemed to have a personal vendetta against me, I believe due to her alleged friendship with my ex Lala Kent."

"Among other things, the article contained fictitious and greatly exaggerated stories made up by a few former disgruntled employees who had been dismissed," Emmett continued. "Lala was also a participant in this fiasco, likely because I have been fighting for 50/50 joint legal custody of our child."

For reference, the "greatly exaggerated stories" are as follows: Kent claimed Emmett once "knocked" her to the ground; Emmett wanted Kent to sign an NDA to keep their relationship a secret while he was still married to ex-wife Ambyr Childers; several women alleged that Emmett prowled outside of bars and in DMs, using his Hollywood producer status to coax them into sexual favors; others claimed Emmett pushed Bruce Willis to work on five action movies after his declining health had become obvious on set. Reps for Emmett did not respond to Jezebel's request for comment. 

"I declined to participate [in the documentary] because it very quickly became apparent to me the film was going to be as biased, if not more so, than the article on which it was based," Emmett told the gossip rag, claiming that "people were encouraged to speak negatively" about him, while the "vast majority had only positive things to say." "It's my understanding numerous people were contacted to participate in this documentary and most declined."

The Los Angeles Times, meanwhile, has said that it "stands behind its reporting on Randall Emmett," which took into account hundreds of court filings, internal records from Emmett's production company, and interviews with three dozen former associates. "If Emmett would like to dispute any of the facts in our reporting or the information that Kaufman and James share in the documentary, we welcome him to do so," a spokesperson said. Spicy!

"I still, to this day, have not had the time to process the trauma that I've went through," Kent told Rolling Stone in an interview published Wednesday. "But the only thing that it's affected so far is my love life. And it's not doing well, bitch! I'm still doing background checks on guys. I have a PI. He gave me a discount because I send so many names to him."

Kent is currently in the middle of a salacious season of Vanderpump Rules and also hosts a podcast called Give Them Lala to support her daughter, as well as to afford the legal fees as she faces Emmett in court for a custody battle. Kent recalled to Rolling Stone the day she discovered Emmett had been cheating on her, which also became the day she realized she would have to fight to retain custody of her child:

"On October 15th, the pictures came out—the Nashville photos of him [with other women]—and I knew something was wrong and I was unsafe. It was a gut-punch, but I had a seven-month-old. I literally called my lawyer that night—I sent it to Darrell—and I said, "This is so confidential: I'm leaving my relationship. This is what I'm aware of." I started going through my DMs and seeing heinous accusations against my ex, and that's when I knew we were entering a custody battle. My ex did say to me, "The second you start going through your DMs, we'll break up." And I just thought nothing of that. How sad is that? But my daughter is the silver lining to everything. And I was not allowed to leave my house, with my daughter, or I would be threatened with police. I couldn't eat … I could barely function. But I knew that not only was I taking on a tremendous amount of legal fees that were going to come my way, but my life would be different. I was grateful to my mom, who came out to help me, and my gusbands."
Despite the enduring trauma, Kent always finds a way to Give Them Lala: After supporting Emmett's attempts at becoming an H-List Hollywood producer, she's finally ready to admit that his film Midnight in the Switchgrass was "one of the worst movies I've ever seen in my life."