Well, this is strange. Lady Gaga performed during the Mugler show in Paris. Okay, that's not so strange, but this is: she rapped. Stranger still: she rapped in the persona of a man, with her voice distorted to sound male. And what did Lady Gaga rap about, you ask? Why, she took this opportunity to exhort an 86-year-old man to "suck" her "dick":
Ortenberg, you can suck my dick
Walk bitch, you ain't Lady Gaga
Nicopanda got style, trick
Cathy Horyn, your style ain't dick
Walk a mile in these foot-high heels
I run in these, you ain't runnin' shit
You chew beef, I wear meat
Then stay on top of the — I-I-I'm getting fat, and so is my bank.
You can hear the verse in question at around 1:15 in the show video above. Art Ortenberg is the former C.E.O. of Liz Claiborne and the longtime partner of the Times fashion critic Gaga also namedrops, Cathy Horyn. Ortenberg, Horyn, Gaga, and Oscar de la Renta have been embroiled in a weird, notionally food-related and stupidly complicated fight that has, until now, mostly played out in the pages of Women's Wear Daily. (It started when Oscar de la Renta misunderstood a line in Horyn's largely positive review of his spring collection and thought that the critic was comparing him to a hotdog. And then everything deteriorated from there.)
Now, a question: is this the lamest diss track ever released? Note the rhyme of "dick" with "dick" when considering your response. [YouTube]
---
G/O Media may get a commission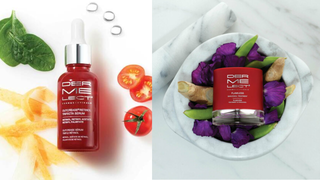 Save $19
Retinol Renewal Kit
Hedi Slimane — whose first women's wear collection for Yves Saint Laurent walks in Paris tonight — is revamping the brand's Web site. Although the domain name will still be ysl.com, the new name Slimane has given his collection, Saint Laurent, is the primary branding. The aesthetic matches the black-and-white campaign that Slimane has been gradually unveiling over the past few weeks. And, in an unusual twist, the site will only sell clothing designed by Slimane: past collections from former creative director Stefano Pilati won't be offered. [WWD]
---
Why yes, the new No Doubt video does look suspiciously like that old Eddie Borgo campaign starring Kate Lanphear. Down to the striped backdrop. This is like that time Rihanna's video copied an old Solve Sundsbo spread. [3 Snaps]
---
Kate Moss is, once again, the face of Mango for the coming season. [YouTube]
---
Minnetonka (shoe at right) is suing Target (shoe at left) for knocking off a 40-year-old moccasin design the Minnesota company has trademarked. [WWD]
---
Garance Doré interviewed J. Crew's Jenna Lyons and made this adorable video. [YouTube]
---
Karl Lagerfeld is opening the first boutique for his lower-priced namesake label, Karl, in Paris next February. This is a rendering. [WWD]
---
Anti-austerity protests that rocked France yesterday also disrupted the Paris Fashion Week schedule. Several shows were delayed as road closures made getting around the city difficult, including the John Galliano show, which started an hour late. [WWD]

Notes Lynn Yaeger in her review of the day's shows, "Reports that people are eating out of garbage cans in Spain haunt the front page of the International Herald Tribune as models in the airiest of grunge-inspired creations stride the runway at Dries Van Noten." [The Cut]

And in other important news, Anne Hathaway's wedding had a $100,000 floral budget, a custom Valentino dress, and a vegan menu. [Vogue UK]

Gwyneth Paltrow is having Nicole Richie's House of Harlow 1960 fashion line do a limited-edition purse to sell on her site, GOOP. It'a a clutch that costs $225. [People]

Ellen von Unwerth went to a party for Cindy Sherman hoping to talk to her about her work — but von Unwerth found she couldn't recognize the artist. "I don't know if she was there," said the fashion photographer. "You never know, it could be anybody next to you." [WWD]

Model Irina Lazareanu is engaged. "His name's Keir Knight, and he's a contemporary dancer. The wedding is next August and we're doing it at Yoko [Ono]'s house, so that's going to be really cool," says Lazareanu. [The Cut]

Carmen Dell'Orefice discusses starting off at American Vogue earning $7.50/hour as a model in 1946 in this interview. Day rates haven't actually improved much since then. [Vogue.it]

Stefano Tonchi, the former editor of T and now editor of W, says that Deborah Needleman's appointment is a good move for the New York Times style magazine:

"She's a solid replacement. There was obviously a little bit of space in between us. I've always liked Deborah. I've known her for many years. She knows that market. She knew how to do the Wall Street Journal and she knows the Times company. Her husband has worked there. She knows the situation that she's getting into."

Did Tonchi just refer to Sally Singer as "a little bit of space"? Oof. [DFR]

The Cut rounds up some of the potential candidates to replace Needleman at the helm of WSJ., including Anne Christensen, Jay Fielden, Alexandra Kotur, and Chris Knutsen. Tonchi, for the record, nominated Vanessa Friedman. [The Cut]

Emmanuelle Alt says she has "not yet" had the chance to flip through CR Fashion Book, her old boss, Vogue Paris predecessor, and former best friend Carine Roitfeld's new magazine. "But I will." [DFR]

Kate Spade New York is sponsoring the Council of Fashion Designers of America/Vogue Fashion Fund this year. Five emerging-designer finalists will get business mentoring from the company, and one winner will get an ad in Vogue paid for and produced by Kate Spade. [WWD]

And now, a moment with designer Jenny Packham — and a pre-Internet concern-troll and likely home sewer from Wisconsin. Remember that time when Kate Middleton's dress blew up and revealed that she...has legs?

"I had a little handwritten letter from a lady in Wisconsin passionately criticising me for the primrose yellow shift dress I made for the duchess," says Packham. "She said didn't I know about putting weights around the bottom of a hem, so it can't blow up?"

The duchess wore the dress at an airport while touring north America, and the wind blowing up the runway revealed rather too much of the royal legs. "Well, I didn't know it was going to be worn on a windy runway," laughs Packham. "But I did think maybe in future I will put in more weighting, just in case…"

Here's a less critical and more practical tip: if you're sewing and don't have any drapery weights on hand, you can put a heavyish, low-value coin (U.S. five-cent pieces are perfect) between two layers of organza and then sew the organza into the hem. [ES]