A source has come forward to Page Six bearing the horrible, horrible details of Lady Gaga's scrapped "Do What U Want" video, which features alleged child rapist R. Kelly and was shot by alleged sexual predator Terry Richardson. How did this video even come into being?
According to the source, Kelly plays a doctor in the video, and Gaga plays his patient. This apparently happens: "Gaga asks Kelly, 'Will I ever be able to walk again?' The singer replies, 'Yes, if you let me do whatever I want with your body.' The not-so-good doctor then adds, 'I'm putting you under, and when you wake up, you're going to be pregnant.'" ARE. YOU. KIDDING. ME.
The video was apparently shot in September of last year, and it was meant to be released in December. In January, Gaga posted an angry message on her website saying that the video release had been delayed by former employees who "betrayed" her by "gravely mismanaging" her "time and health."
The original release date would have coincided with an extensive Village Voice interview with Jim DeRogatis that chronicled of "stomach-churning" sexual assault allegations against R. Kelly, who faced dozens of lawsuits for raping several underage girls in the 90s. It would also have come a few months before the Terry Richardson backlash became extremely fervent as more models came forward with stories of being coerced into sexual acts on set at photo shoots with him.
G/O Media may get a commission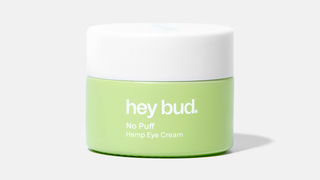 15% off
Hey Bud - No Puff Hemp Eye Cream
To rehash: according to this report, the video would have featured a man with an extensive history of sexual assault "doing whatever he wanted" with a woman's unconscious body, as directed by a man with an extensive history of sexual exploitation. In the words of Page Six's source: "Gaga had a video directed by an alleged sexual predator, starring another sexual predator. With the theme, 'I'm going to do whatever I want with your body?' It was literally an ad for rape."
(As a reminder, the promo image for the video looked like this.) [Page Six]
---
I don't know if there will ever be a palate cleanser capable of eradicating the terrible taste the Gaga-Kelly-Richardson news has left in my mouth, but this is the best I can do: Taylor Swift adopted a new kitten and named her after Detective Benson from SVU!!!! She is extremely cute, and, unlike some celebrities, Olivia Benson The Cat probably never lets sexual predators off the hook. [Gossip Cop]
---
Robin Thicke has released the album art and track list for "Paula." Song titles include "Get Her Back", "Still Madly Crazy", "Too Little Too Late" and "Forever Love." GIVE IT UP ALREADY, ROBIN. PAULA WILL NOT TAKE YOU BACK. [Billboard]
---