Of late, there's been quite a lot of much overdue discussion about the precarious prospect of separating an artist's vile personal life from his art. It is justifiable? Is it even possible? Whatever your opinion on the matter may be, when it comes to photographer-cum-professional pervert Terry Richardson, there's really no room for debate.
This is because Terry Richardson has been accused multiple times of sexually harassing models on set and of coercing them into performing sexual acts on camera. He has made being a predatory creep into a part of his personal brand, part of the on-set culture on his shoots (just "Uncle Terry" being Uncle Terry!). For Terry Richardson, the "art" and the monstrous artist are inextricably intertwined — and it's time for the fashion world and his myriad celebrity collaborators to stop pretending this hasn't always been the case.
We first reported on Richardson's vile on-set behavior in 2010; model Jamie Peck detailed her hugely uncomfortable experience on set. Richardson asked if he could remove her tampon; he then stripped naked and "strongly suggested" that she masturbate him while his assistants watched. Peck was 19 at the time, not well-established in the industry. She said that she felt "disgusted" afterward. It's evident that Richardson took advantage of the skewed power dynamic between young, inexperienced, unknown model and established and influential fashion photographer in order to coerce Peck into something she didn't want to do. That same year, supermodel Rie Rasmussen confronted him at a Paris fashion event. She told the New York Post:
"He takes girls who are young, manipulates them to take their clothes off and takes pictures of them they will be ashamed of. They are too afraid to say no because their agency booked them on the job and are too young to stand up for themselves...

I told him what you do is completely degrading to women. I hope you know you only fuck girls because you have a camera, lots of fashion contacts and get your pictures in Vogue."
Since then, a litany of accounts have come to light: a fashion industry insider told us that agencies "know full well Richardson's predatory behavior," but that he "is tolerated because the industry folk are just sheep." A model described her experience on set with Terry thusly: "It seemed painfully clear to me that the phantom lure of a cover try was sufficient reason for a handful of young women with waning career prospects to humiliate themselves in front of each other while Terry Richardson giggled, panted, said 'That's hot,' and pushed them further." Another model, Sarah Hilker, agreed that the mood on set was immensely exploitative; in her experience, the models were all extremely intoxicated at the time of their shoot. Recently, she told the New Statesmen:
"I feel rather strongly that agencies and companies should not affiliate themselves with a person that mistreats women, who are their biggest consumers. That being said, I also wish that more women were educated and prepared to deal with the hardships that come along with the industry's coldness, the power of saying the word, 'No', with the conviction of walking away, and not regretting it."
G/O Media may get a commission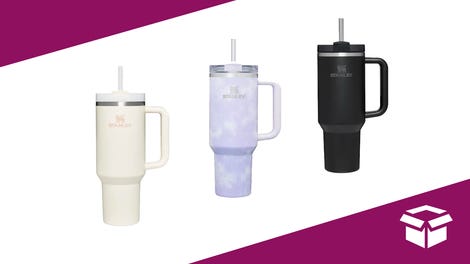 Up to 45% off
Stanley Cup Sale
Canadian model Liskula Cohen also spoke to the New Statesmen; she said that, on set at a Vogue shoot, Richardson asked her to strip completely naked and pretend to give a blow job to one of his friends, also completely naked. "I live with this guilt inside of me, that I did something terribly wrong," she told the blog Girlie Girl Army. "In 24 years of modeling I have only walked out once... That shoot was nearly 12 years ago and it still outrages me, makes me feel queasy, and makes me feel ashamed. I am a 41-year-old mother and this is how my work experience with Terry has left me."
None of this can really be said to be shocking — both Jezebel stories on Richardson have over 600,000 page views, and a petition calling for big brands to stop using him has already garnered over 20,000 signatures — and he's hardly shy about his exploitative behavior. So how can celebrities and magazines justify using him still? In the past year, in addition to working on several very high-profile photo shoots, he's directed music videos for Miley Cyrus and Beyoncé — both of whom have publicly stated that they see themselves as feminists. In a particularly disturbing illustration of how little celebrity culture cares for the victims of sexual abuse, he's slated to direct the (now-delayed) music video for Lady Gaga's "Do What U Want," a duet with alleged child rapist R. Kelly. Perhaps most insultingly, he's photographed President Obama. The photograph of him, grinning smugly with his bony thumb pointed skywards, shaking hands with the leader of our country — a man who has stated that he intends to make combating and preventing sexual assault a policy priority — is just infuriating.
Lena Dunham, who's done a shoot with Terry Richardson, now says that she regrets doing so. In a series of tweets, she explained that learning whom you want to work with is a learning experience, and "you don't learn overnight." (She will not work with him in the future, though). While it's true, and understandable, that you don't learn refuse someone with the power and influence of Richardson overnight, we've been letting his behavior slide for years and years now. It's time to say no for good.
Images via TerrysDiary.