Trump's Labor Secretary nominee Andrew Puzder was accused of domestic violence by his former wife. Rumors circulated that she had appeared on an episode of the Oprah Winfrey Show in disguise to describe the abuse. Now we know that a tape of the show does exist, has been released to senators on Capitol Hill.
Ana Gasteyer Satirizes the Girl Boss in 'American Auto'
According to Politico, the episode aired in March of 1990 and was titled "High-Class Battered Women." Puzder's wife Lisa Fierstein wore a wig and glasses on the show, and alleged that her husband beat her. Fierstein has since retracted her allegations, even writing a letter to the Senate HELP Committee. "I was hesitant," Fierstein wrote, "but encouraged by friends and became caught up in the notion of a free trip to Chicago and being a champion of women and women's issues. I regret my decision to appear on that show."
The episode is difficult to find online, and was only provided to a few senators. Republican Sen. Susan Collins told Politico, "I was told that it's owned by the Oprah Network and they will not share it. I couldn't even have my staff view it." Democrat Sen. Patty Murray says she was "deeply troubled" by the video, but it doesn't seem like the allegations have had an enormous effect on Puzder's nomination in general:
"I've arranged for senators on the committee to see that... I thought that was a reasonable request. No reason not to see it," said Health, Education, Labor and Pensions Committee Chairman Lamar Alexander (R-Tenn.). "That happened 27 years ago. His former wife has said it was all not true. She has reiterated that in a heartfelt letter to members of the committee and has been willing to talk to members of the committee so I don't think that's an issue. "
G/O Media may get a commission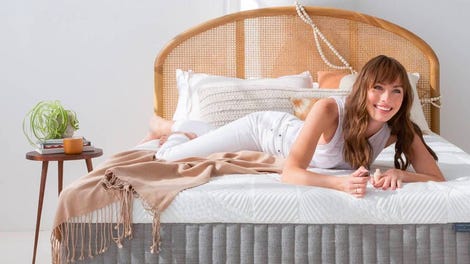 Sleep Sale
Sleep Sale - Brentwood Home
Unsealed court documents from the late 1980s also state that Puzder "assaulted and battered [her] by striking her violently about the face, chest, back, shoulders, and neck, without provocation or cause," causing "severe and permanent injuries."

Perhaps more damaging to his reputation among GOP senate voters is the recent revelation that it took him 5 years to pay taxes on an employee who was also an undocumented immigrant. Puzder also runs CKE Restaurants, umbrella company to Hardees and Carl's Jr, where conditions are terrible and ads are sexist.