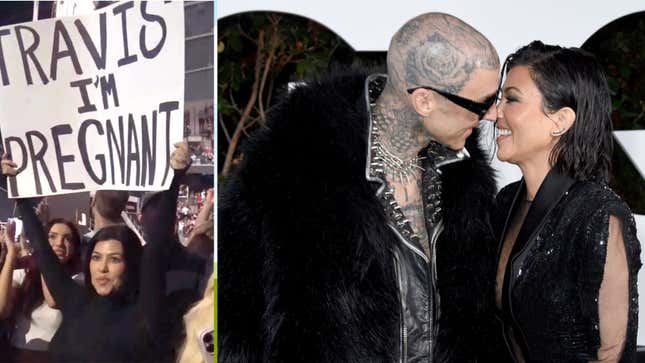 Mazel tov to Kourtney Kardashian and Travis Barker!!!! Kourtney, 44, announced from the audience at the Blink 182 drummer's show in Los Angeles Friday night that she is pregnant with their first child. She held up a sign that said "Travis, I'm pregnant," and one of his bandmates pointed out from the stage, "Someone's having a baby!" You can watch Travis' stunned reaction here:
Kourtney later posted the video of her excitedly jumping up and down with the sign on Instagram and shared the inspiration for the throwback move: A fan holds a sign that says "Travis I'm Pregnant" in the video for Blink 182's 1999 hit "All the Small Things."
The couple have been documenting their struggles with IVF for over a year on The Kardashians. By the time they got together, Barker, 47, already had three children with his ex Shanna Moakler—stepdaughter Atiana, 24, son Landon, 19, and daughter Alabama, 17. Kourtney had sons Mason and Reign and daughter Penelope with Scott Disick. A veritable Brady Bunch situation with three girls and three boys between them (new reality show idea?).
Last year, Kourtney opened up about how hard it's been to try to conceive. "It really took a toll on my health and mentally," the reality star said on an October episode of the Not Skinny But Not Fat podcast. "The hormones. The medication. You have to get put to sleep every time. I know it's for so many people but it's just not for me."
Kourtney had decided to pause doing IVF treatments at the time because of the toll they were taking on her mind and body. "I felt like we kind of got pushed into doing IVF," she said. "If you look online, it says if you're over 40 go right away to an IVF doctor. So I felt a little bit pushed."
Kourtney now joins a growing list of celebrities who've conceived well into their 40s. We wish her an easy, healthy pregnancy!