After battling a nasty Staph infection for what felt like centuries, Khloe Kardashian is feeling much better and ready to enjoy the holidays. Tuesday night, the bravest Kardashian tweeted:
I'm so blessed I'm doing better and my infection is healing. 🙏🏽🙏🏽🙏🏽 I was able to be out and about today... Quarantine is over lol
Based on a series of tweets between Khloe and her mother earlier that day, she's going to be be celebrating her health by taking part in a cook-off with her sister:
And don't bother asking for Khloe what the special ingredient in her green bean casserole is, because she definitely won't tell you!
(It's staphylococcus.)
---
Anna Wintour likes tennis, so Karl Lagerfeld built her a tennis court. If you were Karl Lagerfeld, wouldn't you build Anna Wintour a tennis court? Of course you would.
G/O Media may get a commission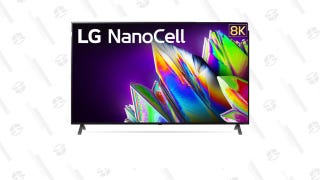 LG 75-Inch 8K TV
Said Wintour:

"Karl built a tennis court on his property at Biarritz as an enticement for me to visit. Needless to say, this was the first and surely the last time anyone has constructed sporting turf in my honor, but Karl was trying to give me somewhere I could feel at home . . . where I could be myself."
This is not surprising, it simply is.
[Page Six]

---
Coco would like you to look at her baby bump.

---
---
Contact the author at bobby@jezebel.com.
Images via The Norman Rockwell Museum/Getty/Amazon.