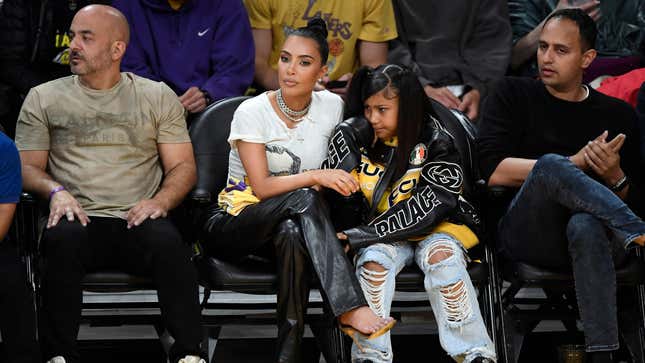 Celebrity mogul or mommy dearest? That seems to be the question, per Kim Kardashian's four kids.
Jennifer Hudson Achieves EGOT Status, is True American Idol
On Mother's Day, the reality television star-turned-billionaire entrepreneur celebrated by sharing tributes from her little ones—North, 9; Saint, 7; Chicago, 5; and Psalm, 4—on Instagram. As we all well know, kids just say the darnedest things—especially, perhaps, ones who share Kanye "Ye" West's DNA—but Kardashian's brood revealed enough about the matriarch to have me giggling for the remainder of the day.
Let's begin with Chicago: By way of one of those questionnaires teachers tend to impose upon small children to glean intel about their parents, Kardashian's second daughter identifies her mother as a 22-year-old (cute!), that her favorite food is salad (lol!), and that she's good at "going to the gym" (OK!). Best of all though, is sweet little Chicago's answer to her favorite thing that Kardashian cooks for her: "Mom doesn't cook. She has a chef." If I'm her teacher, I'm photocopying that sucker and framing it in my entryway like a Live Laugh Love plaque for all eternity.
Of course, Kardashian countered that she does, in fact, cook sometimes. As evidence of such, she posted some photos of beeshees, traditional Armenian pancakes, in preparation. "Chi was wrong, I do cook," she captioned one photo. Granted, she's not in it, so technically there's no proof she made actually made them, but alright!
Saint, too, commemorated Mother's Day by dragging her to hell: "Mom, I'm really grateful for you," he said via a virtual greeting card. "I know I'm rude to you a lot, I say you're nothing to me, but you mean the world to me. I love you more than anything." Huh. A 7-year-old who regularly tells the woman who gave him life that she means nothing to him? My "I hate my mom" phase didn't come til I was an emo 15-year-old Tumblr kid, but OK, I guess.
"You're my favorite in the family. I even love you more than my cute little brother Psalm," he went on to jest. To be fair, I'd take any opportunity to be unnecessarily cruel to my mom if she continued cheering on my cheating uncle, too.

Surprisingly, North, who hasn't exactly had a problem with making her vexation plain, had nothing but kind things to say to her mom via the virtual card: "You are the best in the world. You make my day every day," she said. Awww.
Ain't being a mom a real mother?