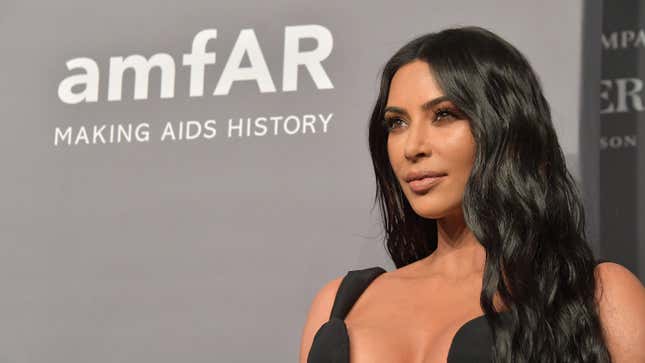 I was fully under the impression that Kim Kardashian West's whole "I want to study law!" thing was kind of like the time I started trying to learn French on Duolingo—three years later, I can say "mon livre est rouge" and absolutely nothing else. But it appears she is quite serious. At the very least, she seems dedicated enough to pledge her commitment to criminal law on national television, which maybe doesn't mean much, but we'll see!
On this week's episode of Keeping Up With the Kardashians, Kardashian West spoke about her plan to take the bar in 2022, after completing the four-year apprenticeship she's currently undergoing in San Francisco. Kardashian West says that in the next decade she wants to leave the ~celebrity life~ behind in full, and instead focus all her energy on prison reform, something she has  given voice to in the past.
It's worth remembering that Kardashian West's late father, Robert Kardashian, was actually a pretty famous attorney, a fact she pointed out on KUWTK. Per People:
"I remember in the OJ case, I would go be going through it and Kourtney would yell at me: 'Stop going through all of dad's stuff!' " she continued. "She was so upset, but I think he would be really proud of me. My dad always taught me that hard work is really important and to really commit to things, so my goal would be in like, 10 years, to give up being Kim K and just focus on this and be an attorney and fight for so many deserving people."

"It would be really interesting and fun to have his Robert Kardashian plaque that I saw on his desk every day growing up and to have mine right next to it," she added.
Call me an ol' softie, but I think that's kind of sweet? I mean, on the one hand, it certainly seems indulgent for a multi-millionaire to skirt law school and take a swing at studying criminal justice because she has the means (and childcare) to do so, an endeavor she can give up at any time and suffer no financial or career-related consequences. On the other hand, learning how to effectively fight for prison reform is probably a more productive use of time and money than taking selfies in literal money suits, so.
The bad news is, Kardashian West will no longer have time for parties:
"I'm dealing with my three kids, I'm dealing with my career, the fourth baby coming and the stress of law school," she said. "Just because you do an apprenticeship does not mean that it's anything less — I mean, you have to put in 18 hours a week. It is a full commitment. I won't have time for events, for favors, for friends, for literally anything, for four years."
For now, she still has plenty of time to film her reality TV show, though, so don't worry.