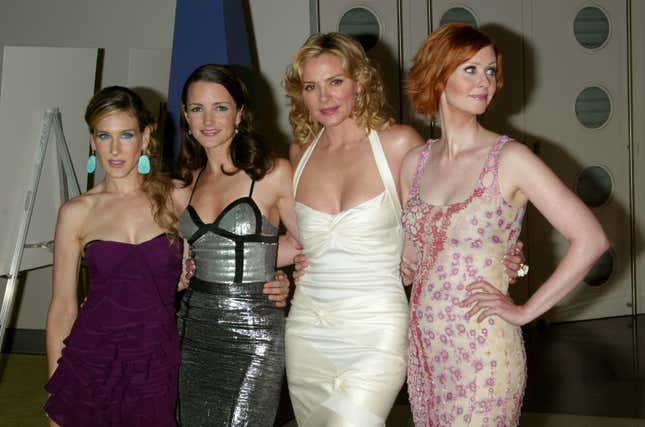 Something vaguely sucked about the first season of And Just Like That…, the sequel series to Sex and the City, and I think the problem mostly had to do with the absence of the show's vibrant, hilarious sexpert and life of the party, Samantha Jones. Her "perverted yet sensible energy was what kept this show together," Jezebel's Megan Reynolds wrote after the 2021 premiere. "Without her, these women are in big trouble."

Luke Macfarlane Talks Starring In Historical Gay Rom-Com 'Bros'
Cattrall's glaring absence from the show has, of course, been the subject of as much chatter in real life as it would have been among SATC's original characters. She and Sarah Jessica Parker (Carrie) have been publicly feuding for over a decade, which culminated in Variety asking Parker in 2022 whether she'd ever be cool with Cattrall returning if "some miracle were to happen." Parker boldly replied: "I don't think I would, because I think there's just too much public history of feelings on her part that she's shared. I haven't participated in or read articles, although people are inclined to let me know."
Cattrall then responded to those comments, "Well, it would never happen anyway. So nobody has to worry about that."
So imagine our shock to learn on Wednesday evening, in a massive plot twist, that this miracle...did happen?! According to Variety, Cattrall will be returning as Samantha Jones for the season finale of And Just Like That… She reportedly shot one scene on March 22, and she didn't see or speak with any of the other stars of the show or showrunner Michael Patrick King. I can find no hints as to what Cattrall might have been paid for this appearance, which will certainly spike that episode's ratings, but I imagine it had to be somewhere between $20 million and infinity billion dollars.
Backing up a bit on the drama here: As many speculated that Cattrall had refused to join And Just Like That..., she told Variety that she had actually never even been approached about joining AJLT. Parker said that was due to Cattrall having pulled out of the third Sex and the City movie, which caused the project to be scrapped. Cattrall has said she was disappointed with Jones' storyline for the proposed third film, where the character was set to receive a dick pic from Miranda's now teenage son.
I'm sure there's much more to the story than what we've seen play out in public comments, but it's a shame these people couldn't just work this shit out for the sake of the franchise!! Cattrall's absence from the first season of AJLT—despite a random note or text from her character here and there that only made her absence more obvious—was just plain sad. Samantha always had the perfect, snarky one-liner to cut whatever tension they all found themselves in. I rewatched the entire series leading up to the AJLT premiere, and the dynamic just doesn't fucking work without her, as Jezebel's Reynolds so well articulated after the premiere. The other three characters are too earnest and annoying without Samantha to balance them out.
So praise be to Max for giving Cattrall however much money they needed to give her to swallow her pride and appear for even just one scene. The new season of AJLT premieres June 22, and the finale featuring Samantha Jones airs in August, if that's all you care to see. I'm already downing a martini.