This is the most upsetting thing I've reported on in, well, a few days, I guess.
Two men have been charged with kidnapping and raping a 28-year-old woman for two days in two different New York City apartments in November of last year.
The woman, a sex worker, was originally called by Benjamin Gaston, 36, who stole her cellphone, money, and identification when she arrived on Monday, Nov 12 around 4 a.m. He then allegedly hit her and held a pillow to her face, saying, "You're not leaving the apartment — you're working for me and making me money." Jesus.
According to the New York Post, the next night (Tuesday, Nov 13) at around 3 a.m., Gaston took the woman to a second apartment, where six or seven additional men were waiting to have sex with her, including co-defendant Johnny Jackson, 53.
Adding another layer of awful to what is already the most awful, the woman allegedly repeatedly snuck 911 calls on a cellphone she found in the apartment, but couldn't give an accurate address, and so police were unable to help.
Sometime during the evening of Wednesday, Nov 15, the woman attempted to use her jacket as a rope to escape from a sixth-floor window, but instead fell the entire way, breaking both legs and her back.
G/O Media may get a commission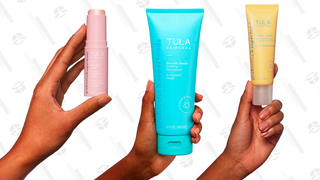 For his part, Jackson told cops he'd didn't know she was kidnapped, and had simply agreed to let Gaston use his spare bedroom to "run the girl out of" and make some money. "I told him he could use the room in my apartment and he agreed to give me part of the profit," Jackson said in his statement. "He brought a girl over and they stayed in my apartment from Tuesday at about 3 a.m. until Wednesday evening," he added. "She was OK with it," he insisted. "She didn't want to leave." Yes, she obviously so didn't want to leave that she broke her legs and back falling from a sixth floor window trying to escape.
"My client is an honorably discharged Marine - that's all I feel comfortable saying right now," Jackson's lawyer said. Like that means anything?
My heart breaks for this woman, and for all women. This is the world we live in.
Both men are charged with kidnapping, sex trafficking, criminal sex act, rape, and sex abuse. Gaston is also charged with assault.