Cathy's Kids, the charity Lamar Odom founded in honor on his mother to "help underprivileged kids and raise money for cancer research", has raised over 2.2 million dollars. Excellent news! The not so excellent news? Not a single penny of that money has gone to underprivileged kids or to fight cancer.
Lamar established the charity — Cathy's Kids — in memory of his mother, who died from cancer when he was 12 ... and initially stated that the purpose of the charity was to help underprivileged kids and raise money for cancer research.

But according to official records — obtained by ESPN's "Outside the Lines" — there is no evidence any of the money ever went to fight cancer.

There is proof, however, $1.3 million of the $2.2 million that was raised went toward funding two "elite" youth basketball teams — the insinuation is that the kids on the teams were so good, they were already on college radars for scholarships and other financial help.

Of the remaining $900k, there is no evidence based on available documentation that any of it went to cancer research. In fact, according to OTL, there's no evidence whatsoever of where the money went.
Further, they've removed all the items from the charity's eBay page.
UPDATE: Kardashian's people say Odom was duped:
"It is unfortunate that Lamar Odom has been the target of an attack on athletes' charities, although he has personally contributed approximately $2.2 million to his foundation, Cathy's Kids, to fulfill its charitable purposes that include helping underprivileged inner-city youth," Khloe's reps told Radar in a statement on Tuesday.
Whatever went down, it clearly sucks the most for the kids and the charities; here's hoping this is all gets resolved fast.
[TMZ]
---
G/O Media may get a commission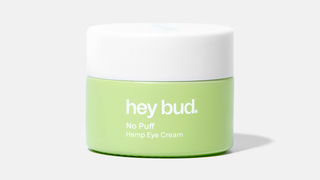 15% off
Hey Bud - No Puff Hemp Eye Cream
Justice Beaver is at it again! Doing what? Nobody knows, exactly. Mainly it appears he's hitting on Victoria Secret model Jourdan Dunn with lines like "You got nice tits," and "You flashed me and my dancers and made my day." How did Dunn react? "I kind of felt a bit awkward because he's this little boy." Lol, biebs.
[Jourdan Dunn], 22, revealed on "The Jonathan Ross Show," that the Canadian pop star had flirted with her at a rehearsal for the Victoria's Secret Fashion show last November. Dunn apparently received a compliment from the singer after accidentally flashing her chest at him.

"He said to me, 'You're really cute. You got nice tits. You flashed me and my dancers and made my day,'" Dunn said. "I kind of felt a bit awkward because he's this little boy. I laughed after it because he was 18 at the time and I was like, 'why not, flirt with the models, do your thing.'"
---
Michael Fassbender and Rosario Dawson are apparently an item.
Rosario Dawson and Michael Fassbender were spotted together in his neighbourhood in London a couple of times this weekend. (Thanks MK!) No confirmation as to whether or not it was more than just a meeting. Or two meetings. And no body language indications either.

Still, the prospect is intriguing. On a purely physical level, their combination would be hot. And it might be interesting politically too. Because Dawson stars in the upcoming Trance, directed by Danny Boyle, opening this weekend. And Fassbender was initially in talks to play the part that eventually went to Vincent Cassel but had to drop out due to scheduling conflicts. Boyle and Dawson just ended their relationship. If Boyle and Fassbender intend to work together eventually, does a potential Dawson-Fassbender hookup screw that up?
That's great and all, but I'm still confused about the abuse charges from Fassbender's ex. She dropped them, but women don't always drop charges because they're not true. That said, it's not fair to condem him if they actually aren't true. Whatever it is, it makes me a little less excited about him. Is that fair? What do you guys think?
Annnd speaking of Rosario Dawson, here's James Mcavoy on her pubic hair — "Where were we? Ah, shaving the vagina, as people do."
---
Courtney Love is doing ads for electronic cigs.
In the ad, a stodgy older woman catches the controversial performer smoking indoors at a chic party.

"Excuse me, you know you can't smoke in here," the elderly woman tells the Hole lead singer, while looking at her in utter disgust.

Never one to be intimidated by anyone, Love responds with her trademark foul language.

"Relax, it's a f**kin NJOY," she says before sauntering away as her song Celebrity Skin plays in the background.

NJOY Kings promote their product as the "look, taste and feel of traditional (cancer sticks)."
Adorable. [Radar]
---
Victoria Justice wears short shorts. [Popoholic]
Tom Daley and a tiny piglet LET'S GET MARRIED. [Queerty]
Molly Ringwald can totally pull off red lipstick [Yeeeah]
Tom Hanks and Rita Wilson are grandparents again! I bet they're awesome grandparents. [People]
Bradley Cooper got a perm. [People]
Game of Thrones is the stallion who mounts the fourth season. (Ugh, I don't know; GoT is getting a fourth season is what I was going for.) (Also, isn't this adorable??) [Deadline]
Last year, Betty White got a hug from First Dog Bo at the White House. I have no picture, but I just saw her telling Anderson Cooper about it on his show earlier today. And then he gave her a tour of the White House. Is there any better thought than Betty White hanging out with Bo? She also talked about how she wanted to do a Golden Girls movie, but Bea Arthur wanted to quit while they were ahead. I see both points, but really DAMMIT BEA. (Please note, this might be slightly old news, but it's still exciting, OK?)
Finding Dory is coming!! [Slash Film]
Melissa Joan Hart is the new Nutrisystem spokeswoman. Not sure what the diet is about these days, but when my mom put me on it about twenty years ago, I ate small portions of gross microwave dog food and starved. But it's probably better, now — at least food quality wise? [E!]
That kid CANNOT pour the milk into the cereal! (And other awesome infomercial gifs)