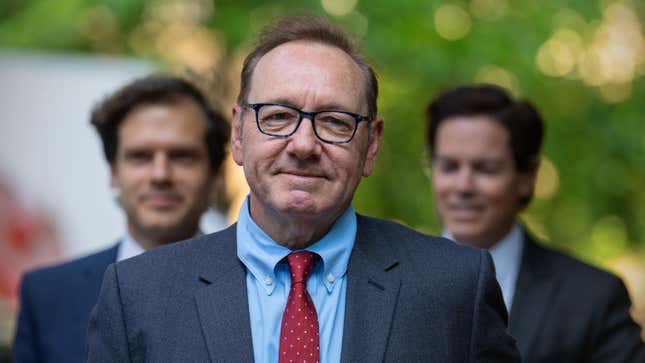 It's only week two of Kevin Spacey's U.K. sexual assault trial, and one accuser has already compared the actor to his character in the 1995 crime thriller, Se7en—notably, a psychotic serial killer obsessed with the seven deadly sins.
On Monday, the court listened to a pre-recorded police interview with one of Spacey's four accusers in which he describes in graphic detail how Spacey touched his private parts "a good dozen times" without consent over the span of "a few" years.
"He was almost, right from the get-go, grooming me," said the man, who was introduced to Spacey through his work as the artistic director of the Old Vic theatre. The accuser described the actor as "very charming" and complimentary and claims that as the two became further acquainted, Spacey's "grooming" became physical.
"He'd grab my hand and put my hand on his privates," the man told police. "I used to call him a weirdo. I used to say, 'You're a fucking weirdo.' He used to laugh about it, he used to find it funny… he wasn't embarrassed."
The last time the man says he saw Spacey was while driving the actor to a party outside of London. Spacey, he claims, had been drinking and was acting paranoid that the car was being followed by paparazzi. The accuser claims that as they approached the venue, Spacey abruptly grabbed his genitals with such force that he almost lost control of the vehicle.
"His hand hit me quite hard on the inside thigh then moved up, real thud, hit me right in the nuts basically," the man said. "It took my breath away." He says he stopped the car and told Spacey "it fucking hurt, you can't do that," to which Spacey just "giggled."
"[Spacey's] character in Se7en—he's a bit like that," the man said. "A bit creepy. Maybe not quite as bad."

On Wednesday, another accuser's pre-recorded police interview was played in court. The man made similar allegations against Spacey, including that he "grabbed" his genitals "with such a force it was painful" at a charity event in 2005. He described Spacey as looking like he hadn't slept and reeking of alcohol though the event took place in the morning. More disturbingly, the man alleged that Spacey prompted him with a series of bizarre, inappropriate questions like, "Have we fucked?," "Do you have a big cock?," and "What's your cock like?"— though they'd only just met.
"I remember freezing, pushing his arm away and walking away and just feeling shellshocked and frustrated and kind of horrible that someone would think I'm that seedy and sleazy and dirty," the second accuser said.
Yet another accuser alleges that the actor forcibly performed oral sex on him while he was asleep. Spacey, prosecutors have told the court, is a "sexual bully."
The House of Cards actor been charged with 12 counts of sexual assault, indecent assault, and other offenses that allegedly occurred between 2001 and 2013—all of which he's denied. The trial will reportedly last about four weeks.