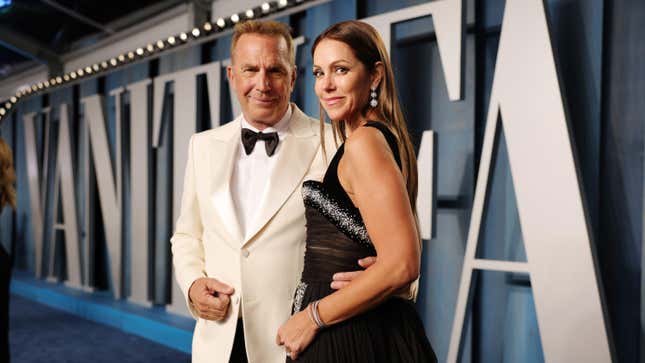 Whoa there! Looks like boomers nationwide won't be able to watch their beloved Yellowstone in a vacuum anymore, because its star's personal life is beginning to look messier than the bottom of a horse's hoof.
Jennifer Hudson Achieves EGOT Status, is True American Idol
On Monday, Costner, who plays John Dutton on the Paramount series, was blindsided after Christine Baumgartner filed for divorce, according to Page Six. Baumgartner, a 49-year-old handbag designer, cited "irreconcilable differences" and asked for joint custody of the couple's three kids. Sources told the gossip rag that Costner, 68, who married Baumgartner in 2004, was left "stunned" by the divorce. The duo was last seen publicly together in March at an Oscars afterparty.

"It is with great sadness that circumstances beyond his control have transpired which have resulted in Mr. Costner having to participate in a dissolution of marriage action," Costner's rep said. "We ask that his, Christine's, and their children's privacy be respected as they navigate this difficult time."

While there's been no official concrete reason for the divorce, the rumor mill has of course gotten to work, suggesting that Baumgartner may have wanted to split due to "rampant" cheating allegations against Costner. One particularly egregious rumor circulating on social media alleges that Costner got a Yellowstone crew member pregnant. TMZ reported that sources "close to" the star say the pregnancy rumor is "total BS" and completely "baseless."

Costner's rep also told Page Six that any and all allegations of cheating are "absolutely not true," while a source from the Yellowstone crew attested that, "No one knew about any issues. He was not 'sequestered' on the set and would often go home to visit his family."

"Kevin was very surprised by Christine's actions, he obviously doesn't want the divorce and he would take her back. It's disappointing, he loves her and he loves his children," a friend added. "I have no idea if Kevin even knows what the reasons are."

Interestingly, Costner's first marriage, to Cindy Silva, ended after he allegedly cheated on her with a hula dancer named Michelle Amaral on the set of Waterworld in 1994. The eventual $80 million divorce was similarly clouded by serial cheating allegations, though one longtime friend said, "There was no issue of cheating at all." Costner also reportedly met Baumgartner while he was still married to Silva.

"The temptations are pretty strong and there's a hungry world out there waiting for you to fall," the actor, who's previously dated Elle Macpherson and Halle Berry, once said, according to Page Six. "So you can't even dabble without paying a huge price. I try to conduct my life with a certain amount of dignity and discretion but marriage is a hard, hard gig."

Costner has spent months away from home filming Yellowstone in Montana, but only time will tell whether this cowboy has been riding more than just horses.