Kentucky's new governor Matt Bevin, whose political views and personal affect are a cross between Ted Cruz and a labradoodle, has posted a video of himself marching through Kentucky's empty House chambers to prove that Democrats aren't working on the budget.
"Okay, we should probably be quiet, because we don't want to interrupt the hard work that's happening," Bevin whispers dramatically in the video, perhaps believing himself to be filming a Frankfort-based sequel to the Blair Witch Project rather than a piece of partisan propaganda titled "#Get2Work #PassTheBudget."
"It is 11 o'clock on a Monday there is nobody in here, this House, we have less than 19 days left now for this House to be in session together in the Senate and there is nothing being done," Bevin says in the video, which has received over half a million views on Facebook. "There is not a soul in here except for me. What are people doing?"
Well, interesting question, Matt!
First off, Bevin's budget calls for cuts that University of Kentucky president Eli Capilouto has called "draconian"; Capilouto testified that the budget would reduce UK's state appropriation by $13 million this year. Education in general is not a priority for the Bevin administration, as Kentucky.com reports:
Other cuts for K-12 that Bevin proposed last week include $2 million less each year for family resource and youth services centers, $2 million less each year for programs that include safe schools and professional development, and $1 million less for career and technical education – another area where the state board of education has sought a major funding increase.

There would also be $1 million less for after-school programs, about $750,000 less each year for textbooks, $500,000 less for teacher training, and $300,000 less for programs for gifted and talented students, according to the school boards association's report.
G/O Media may get a commission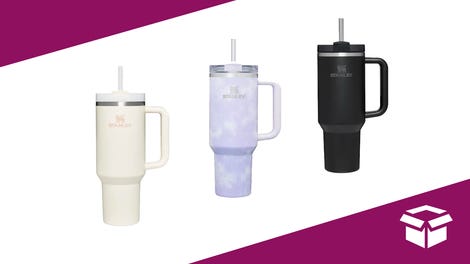 Up to 45% off
Stanley Cup Sale
What Bevin's video fails to mention—besides the fact that Republicans don't seem to be present, either—is that Kentucky's legislative chambers don't convene until 4 PM on Mondays.
According to reporter Nick Storm at CN2, "Bevin's video and commentary misses the fact that lawmakers work from the Capitol Annex next door to the Capitol in committee meetings and behind the scenes working groups, and not gavelling into session in the chambers in both the Republican led Senate and the Democratic led House until 4pm on Monday."
In a Monday news conference, House Speaker Greg Stumbo told reporters of Bevin's video:

"We worked late Friday afternoon on the budget," he said. "Our budget subcommittees have been meeting every day...If he cared to walk across here (the annex), maybe someone would be happy to send a trooper over to give him a tour."
Democrats have noted that the budget itself is rather vague, and that Bevin's cabinet secretaries have failed to provide certain information, including details on a $100 million bond issue Bevin requested. "Unless we got it this morning, we've not seen a plan," Stumbo said, according to the Courier-Journal.
And in a statement, Kentucky Democratic Party Chair Sannie Overly strongly questioned Bevin's indeed questionable motives:
"Either Gov. Matt Bevin doesn't know how the process works, or he was trying to distort the truth and mislead people with his video today on social media," said Rep. Sannie Overly, chair of the Kentucky Democratic Party. "While Gov. Bevin was trying to be the star of his own phony reality show at the wrong place, House lawmakers were heading to work in the Capitol Annex, where committee meetings happen every day during session."
I mean, you do have to hand it to Matt Bevin—members of his party have not historically been bothered by inaccurate viral videos.
---
Contact the author at ellie@jezebel.com.
Image via Associated Press.