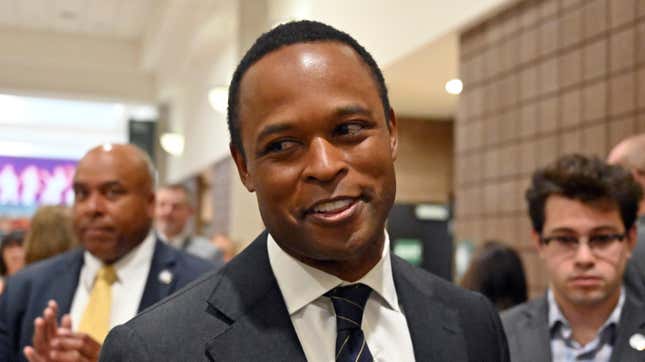 Kentucky Attorney General and gubernatorial candidate Daniel Cameron (R) reversed his position about adding exceptions to the state's near-total abortion ban from a hard "No" to "I would." In news that may or may not be related (but likely definitely is), Cameron is getting heat for his responses on an anti-abortion questionnaire while also trailing incumbent Gov. Andy Beshear (D) in the polls by as much as 10 points, ahead of the election this November.

Uterus Weekly: 15-Week Abortion Bans
In a Monday interview with the Tony & Dwight show on NewsRadio 840 WHAS, Cameron changed his tune from his hardline stance of only allowing abortions if the pregnant person's life was at risk—the current state law. "If our legislature was to bring legislation before me that provided exceptions for rape and incest, I would sign that legislation," he said at about 11:25 into the interview. "There's no question about that." He also said reports that he would go after birth control were "absurd."
Cameron was responding to a question about claims made in an ad by the Beshear campaign, which slams the state law and features a prosecutor talking about rape survivors. In the ad, she says that "Daniel Cameron thinks a 9-year-old rape survivor should be forced to give birth. Nobody—no child—should ever have to go through that."

For him to now say there's "no question" that he'd add exceptions sure is rich. Since the state's trigger ban took effect last summer, Cameron has repeatedly said that he doesn't support adding any exceptions to the law. He dodged a question about it during a primary debate in March, responding with "Well, I support the current law." Then during a local news interview in April, the reporter asked if Cameron would support adding the exceptions. "I'm not going to waver in my position on this and we're going to continue to defend the law as is," he said. And now, here he is, wavering.
When the Courier-Journal asked about his flip-flop on Monday, following his radio interview, press secretary Courtney Yopp Norris said via email that "Daniel Cameron is the pro-life candidate for Governor and supports the Human Life Protection Act. But if the situation in Kentucky were to change and the legislature brought him a bill to add exceptions for rape and incest, he would, of course, sign it." Oh yes, of course.
Alex Floyd, a spokesperson for the Beshear campaign, told the Associated Press in a statement that Cameron made his position on exceptions very clear to voters. "Either recent polling numbers have changed Cameron's core beliefs, or he is lying to Kentuckians now that he is seven weeks from an election," he said.
It's important to note that rape and incest exceptions are often meaningless in practice, but anti-abortion activists and lawmakers sometimes trot them out to claim they're being "reasonable." It's not a functional difference for abortion seekers, but it is a rhetorical difference on the campaign trail where he's facing headwinds. Beshear is a popular Democratic governor in an otherwise red state: One August poll showed Beshear with a 58% job approval rating, and Cameron underwater at 41%.
In the interview, Cameron also tried to swat away concerns that he believes several forms of birth control are akin to abortion—he signed an endorsement questionnaire earlier this year which said that the birth control pill, shot, and implant cause abortions. On the radio show, he said it was "completely absurd" that he would go after contraception. "I support birth control. I support contraception," he said at the 12:30 mark. "Again, this is a smear campaign by Andy Beshear because they know that they're going to lose this race, and so they're clinging to and trying to do whatever they can." Projection much?
The election doesn't only have ramifications for abortion and reproductive freedom, the winner could also name a replacement for the ailing Sen. Minority Leader Mitch McConnell (R-Ky.) if he were to resign before the end of his term in January 2027. And it sure seems like Cameron is feeling the heat and worried that his radical views might lose him the race—and possibly cost the GOP a seat in the Senate.