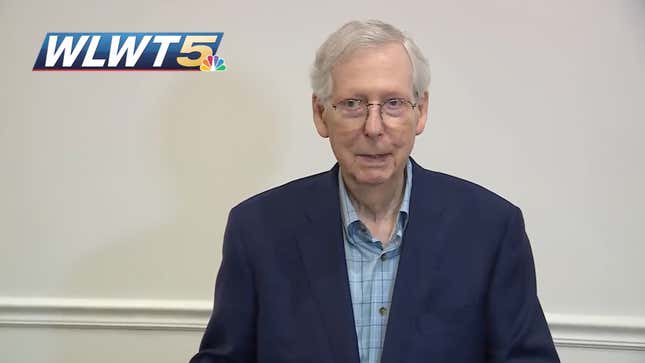 Senate Minority Leader Mitch McConnell (R-Ky.) was unable to answer a reporter's repeated question at a news conference in Kentucky on Wednesday. This is the second time in as many months the 81-year-old Republican leader has seemed unable to speak in public.
At a press conference in Covington, a reporter asked McConnell about running for re-election in 2026. As the senator turned to face the audience, he stopped speaking. An aide in a blue suit came up to McConnell and loudly asked, "Did you hear the question, Senator?"
McConnell opened his mouth a little and then closed it. The aide told the gathered media that they'll "need a minute," and another came to escort McConnell away from the makeshift podium.
According to NBC News, McConnell had been speaking for about 20 minutes before the episode. Aides had to repeat the questions to McConnell multiple times. Apparently, on-the-ground reporters did not ask questions about his lapse.
A spokesperson told NBC News that McConnell "feels fine," which is great thing to hear about someone with so much power over our lives. "Leader McConnell felt momentarily lightheaded and paused during his press conference today," they told NBC News, adding that the senator will be seeking out medical attention.
McConnell's previous episode happened on a much bigger stage. While leading a press conference at the U.S. Capitol in late July, McConnell abruptly stopped speaking for more than 20 seconds. Eventually, Sen. John Barrasso (R-Wy.) asked, "Hey Mitch, anything else you want to say? Or should we just go back to your office? Do you want to say anything else to the press?"
Again, McConnell told reporters he was "fine" when he returned to the podium and told media that he "felt lightheaded." This came after McConnell falling at an event in D.C. earlier this year, sustaining a concussion and minor rib fracture, and face-planting at an airport in July.
I understand that power is a part of the equation that keeps people in Washington, but McConnell has so much money and influence that I'm sure he could maintain enough power from a mansion in Kentucky instead of doing.....this.