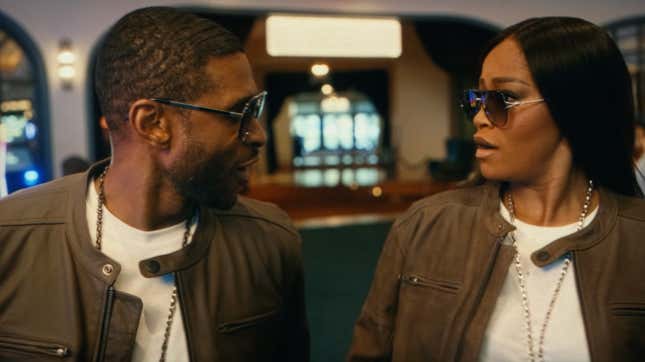 If anyone is going to tell Keke Palmer to act like a mom, it's gonna be herself. Oh, and Usher. Respectfully.

In what is now the blueprint for clapbacks at disrespectful boyfriends, Usher just dropped a new music video for his single "Boyfriend," which stars Palmer in a thinly veiled recreation of the tweet heard 'round the world.
Last month, Palmer's boyfriend and father of her child Darius Daulton quote-tweeted a video of Palmer dancing with Usher at his Las Vegas residency, writing: "It's the outfit tho.. you a mom." Sure, 29-year-old Keke did just welcome son Leodis Andrellton Jackson in February—good job pointing out that, Darius. But if she wants to show some cleavage at an Usher concert, please Darius, let the woman live.

Quick to the draw, Palmer immediately put out "I'm a Motha" merch in retaliation (which you can still nab for $45), but the payback train hasn't stopped rollin': On Tuesday, Palmer became a video star—the main character in Usher's lightly fictionalized story about a woman embarking on a girl's trip to Vegas and dreaming about, you guessed it, Usher.

"You tryna be on your best behavior, loving me on the low," Usher sings. "Somebody said that yo boyfriend's looking for me, that's cool."

A thoroughly humiliated Daulton is now pretending he doesn't give a shit, as "a source" told People that he has "moved on" and is focusing on his acting career. Said "source" also basically confirmed their break-up, saying, "You don't have to be in the same household to be good parents."

While neither camp has officially confirmed a split, that doesn't make the mess portrayed in the video any less delicious. "In your head, 'cuz I'm not in your bed," Usher croons, while looking fine as hell and serenading his abs in a vanity. At one point, Usher and Palmer perform a duet in the middle of a casino, twinning in matching outfits and exchanging devilish grins. Keke looks smug throughout her starring role, as she should—this is about the best revenge a woman could dream up for a controlling boyfriend.

At the end of the video, Keke startles to the sound of an alarm clock, sitting up in bed. She answers a call, looks straight to the camera and says, "I'm a motha…after all." She winks. And that is what happens when you come for Keke Palmer. End scene!!!!!