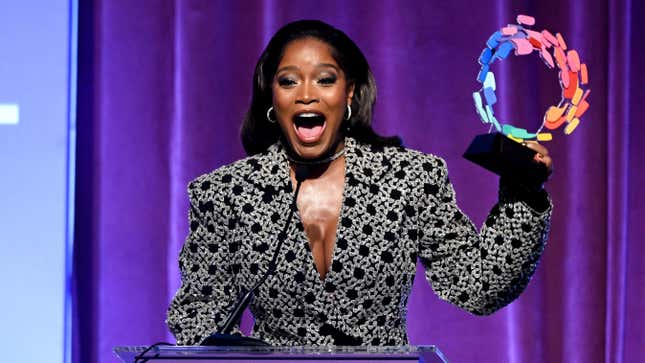 Let it be known that Jezebel has long fancied Keke Palmer as the world's most charming person. However our proclamation, I fear, was premature. As evidenced in a moving—and gloriously candid—speech at the Los Angeles LGBT Awards Gala over the weekend, the triple-threat is not the world's most charming person. She's the universe's most charming person.
Is Emmy Rossum Old Enough To Play Tom Holland's Mom?
"I'm so grateful to be here today to be embraced by a community that I've always felt accepted by and a part of," Palmer told the audience. "I've always been my own person. Sexuality and identity for me has always been confusion. You know it's, 'I never felt straight enough. I never felt gay enough. And I never felt woman enough. I never felt man enough.' You know, I always felt like I was a little bit of everything."

Palmer, who just became a mother, previously shared that when it comes to sexuality, she's "definitely in the middle." As a matter of fact, people (me) are still talking about the music video for her 2016 single, "I Don't Belong To You," wherein she leaves a man and arrives—in lingerie—on the doorstep of R&B singer, Cassie.
"The video represents the young woman today–it's not the traditional woman anymore–and not the specifics of 'Am I gay? Am I straight? Am I bi?' I'm making the rules for myself, and I don't have to be stuck down to one label," she told People at the time of its release. I digress! Let's get back to her remarks!
"So often, I lead with masculinity. And as a woman, I've always been met with so much disdain, you know what I mean?" Palmer continued. "I think so much of that came from who I thought I had to be to get respect, admiration, and love. And I've always really wanted to be like my father…to want to be taken seriously and not diminished because I was a woman. You know, that's always been a source of—I guess you would say — pain and resentment."

In an even more profoundly relatable moment, Palmer then presents the prompts she—and likely half the world—is still reflecting on in adulthood.
"Why did my gender have to define the power I have in the world? And why does my gender get to decide my sexuality?" she asked, apparently getting choked up. "You know, since I was younger, I always questioned the boxes I was forced to be in and it starts with who you're supposed to be as a child. You're supposed to be as a Black person or whatever the background you are from...Then those walls just try to cave you in from every damn angle, who you are as a creative, who you are as a friend."
Needless to say, watching a retired Disney kid and devout Christian publicly interrogate identity and stand squarely in their queerness is going to get me through the week. Hell, maybe even the month. Solidarity, Keke.