After airing an episode last Wednesday about the "controversial" HPV vaccine that many said included far too much fodder for anti-vaccineers, Katie Couric has apologized, explaining that "based on the science, my personal view is that the benefits of the HPV vaccine far outweigh its risks."
On Friday, a message was posted to the Katie website that addressed the controversy. It admitted that the health issues the families interviewed during Couric's HPV episode "may or may not be linked to the vaccine" but argued that the show was fair and balanced (emphasis added):
For those of you who watched the show, you know we presented the facts supporting the potential of the vaccine and that Katie's own daughters received the vaccine. This is an important personal decision to be made in consultation with your doctor and other family advisors. The CDC says the HPV vaccine has been used in the US and around the world and has been very safe, however, any medicine could possibly cause a serious problem. They also state the risk of any vaccine causing a serious injury or death is extremely small.

We believe this is an important topic for discussion and wanted to share multiple viewpoints, so we included the doctor who oversaw the clinical trials of Gardasil, and who shared the clinical trial results that the vaccine only provides protection for a finite amount of time. She also questioned, given the overall success of Pap testing to screen for cervical cancer, whether the vaccine is necessary or just optional.

We do not want to leave our viewers with an irrational fear of the vaccine and for that reason we're going to continue the conversation and invite a number of medical experts, journalists and scientists to weigh in here, on our site. We'll keep you posted!
Though reports indicated that Couric would talk about the episode in her show Friday, that didn't come to pass. Instead, Couric wrote a lengthy blog piece for the Huffington Post on Tuesday (I guess HuffPo will get her spoils until her deal with Yahoo starts up officially) apologizing for the episode. Citing her history of raising money for cancer research as an indication that she takes this stuff seriously, Couric wrote that the show shouldn't have devoted so much time talking about the few cases of extreme symptoms after vaccination because "There's no question that vaccination is highly effective":
Following the show, and in fact before it even aired, there was criticism that the program was too anti-vaccine and anti-science, and in retrospect, some of that criticism was valid. We simply spent too much time on the serious adverse events that have been reported in very rare cases following the vaccine. More emphasis should have been given to the safety and efficacy of the HPV vaccines. As someone who has spent the last 15 years relaying important medical information with the goal of improving public health, it is critical to me that people know the facts.
G/O Media may get a commission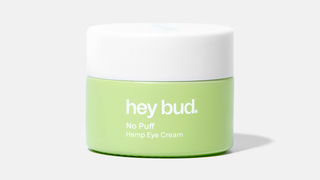 15% off
Hey Bud - No Puff Hemp Eye Cream
That being said, Couric argued that it was important to feature the families on the show who had spoken out against the vaccine because, "As a journalist, I felt that we couldn't simply ignore these reports":
There is no definitive proof that these two situations were related to the vaccine. Every life is important. However, the time spent telling these stories was disproportionate to the statistical risk attendant to the vaccines and greater perspective is needed.
She also changed her mind with regards to statements from Dr. Diane Harper about the longevity of the drug; during the show and in the post-show statement, there was a great deal of comment about how the vaccine doesn't last long enough to really be worth it. In Tuesday's article, Couric admitted that as more and more people are vaccinated and the vaccines have been used for longer, only then can we get accurate data about how long the vaccine will work.
According to Couric, she and her staff wanted to do this episode "to help parents make an informed decision about the HPV vaccine, not cause irrational fear." But a problem with the "conversation" aspect of daytime talk shows targeted to women is that they profit from the idea that women love to talk but perpetuate the idea that all types of talk are valid, which means they rely heavily on anecdotal, conversational evidence, the stuff that anti-vaccineers are made of. When amongst friends, hearing what everyone has to say – whether or not they're full of shit – is certainly a important and polite part of any social interaction. That's not the case in the journalism community, or it's not supposed to be. In an age where social media has rendered every voice important and journalists prey upon an individual's desire to share share share, every opinion has become important too. Whether every opinion is valid is supposed to be considered before it's elevated to the level of fact, but in a desire to reach a wider audience and "get more voices," the worthiness of those voices is often not considered.
In returning to daytime television, Couric made a concentrated effort to move away from full-on reporting and get back to her roots of chumming it up. Much of that meant acquiescing and airing dramatic stories, like those in the HPV episode, which has essentially became a token example of why Couric's show isn't working: she can't decide whether she wants to be a serious journalist or everybody's best friend – or how to do both, if that's even possible.
In October, the Hollywood Reporter noted that Couric's Q ratings, or likeability ratings, were not great. While she was liked by 10% of women, 21% felt negatively about her, contrasting sharply with Ellen DeGeneres' 29% positive and 14% negative scores. Ellen DeGeneres and Katie Couric are not doing the same thing: Ellen's show is all children who have become stars on YouTube and celebrities who want to dance onto her stage. With Katie, Couric is trying harder to emulate Oprah, but with more journalism thrown in there, constantly walking the line between featuring personal stories and educating her audience. But the way she and her team handled this episode makes her future deal with Yahoo even more confusing. Instead of devoting time on her show to discussing the episode – which people are watching, even if the ratings are low – she used a post on a website that's not even hers to clear up the controversy. While some could argue that Huffington Post's bandwidth allows Couric to change misconceptions about the HPV vaccine perpetuated by her own show for more people than if the article was posted on the show's website or discussed on the show itself, there's a larger driving force in the medium she chose here. By making multiple mentions to her journalistic chops and citing extensive data about the success rate of the HPV vaccine, Couric wanted to gain back the respect of the greater media world, doing so on a platform that is at least somewhat respected.
In her HPV vaccine episode, Couric tried to walk the line between serious reporter and girl next door, and failed. That's because she's confused about what her future will be in this ever-changing media world. It would certainly be nice for her if she could figure out how to report the facts and keep everyone liking her. As a bonus, it'd be profitable too.
Image via Disney/ABC