Well, this is upsetting: Katherine Jackson, the 86 year old matriarch of the Jackson family has allegedly been suffering from years of abuse at the hands of her nephew and driver Trent Lamar Jackson, according to court documents obtained by People.

Trent is described in the documents as an "abusive con-man"who has reportedly been taking advantage of her trust in him by attempting to "assume control of her finances."
From People:
Jackson, 86, claims her nephew (through marriage) has accessed her bank accounts without her permission, used credit cards of hers for his own personal purchases without authorization, and subjected her to years of mental abuse that has left Jackson "in a constant state of fear and confusion."
TMZ reports that Katherine has repeatedly try to fire her nephew and has requested that he pack his shit and leave the guest house where he's currently living (rent-free, I bet), but he's refused. For some insight into why he'd be preying on an 86 year old woman who probably wants to just live her life in relative peace, here's TMZ:
We're told Trent believes some of Katherine's kids will now try and influence her to put pressure on Michael's estate to give her a bigger piece of the pie, and he believes they want to cut themselves in on the action.

Here's the problem with Trent's theory. Katherine has no right to simply get more money because she wants it. She gets a healthy stipend, and the duty of those in charge of the estate is to preserve and grow the assets for the benefit of Michael's 3 kids and his designated charities.
G/O Media may get a commission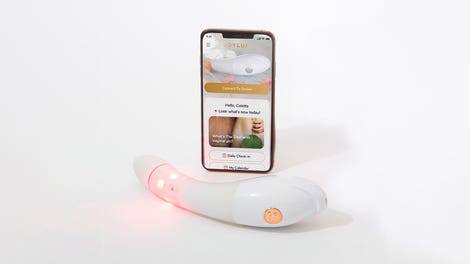 $50 Off
Joylux vFit Gold Device
A judge granted a restraining order that requires Trent to move out of the guest house and surrender all passwords, keys and combinations at once. Meanwhile, Katherine is in London visiting her daughter, Janet and is reportedly "afraid to go home with Trent there" and fears physical harm once he finds out that she's taken legal action to have him fired.
Good lord, hasn't this woman been through enough?
---
Here is the reason why Rita Ora says she eliminated Krislian Rodriguez from America's Next Top Model: because she was "oozing sex."
Here is the reason why Krislian Rodriguez thinks she was eliminated from America's Next Top Model: because she once dated Calvin Harris and Rita Ora is still salty about it.
Who is telling the truth? Who is doing a lie? Which pretty-ish person is right? Who do you think it is? Who?!
[TMZ]
---
Mmm, okay, so the backstory with this thing here is that Kim Kardashian heard that her good friend Carine Roitfeld hit 1 million followers on Instagram and s instead of making her a cake to celebate, she, uh, did this.
E! Online says that "she turned making a salad into a sexual feast for our eyes." I say that Kim Kardashian has absolutely no idea how to make a salad because who in the hell snaps a cucumber in half like a twig and throws it on top of some mesclun mix, then dumps half a bottle of Wishbone Italian on top of it and calls that a freaking salad?!?!
---