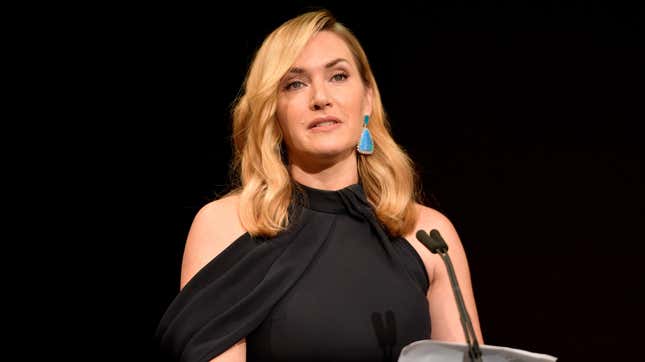 There's a long history of Hollywood pressuring LGBTQ actors to stay in the closet under threat of losing their careers, while straight actors frequently play gay or trans with little to no consequence. Sometimes, they even win awards for those portrayals! See Olivia Colman in The Favourite, Mahershala Ali in Green Book, Jared Leto in Dallas Buyers Club, and all the other examples on this Pride.com list.
Alison Brie on Sex Scenes: 'We Are Actors, This Is Our Job'
Given that historical double standard, I appreciate some recent comments from Kate Winslet about the systemic homophobia boxing LGBTQ actors in. Speaking to The Sunday Times, the Oscar-winning actress—who's currently doing press for her new film, Ammonite, in which she plays purportedly lesbian palaeontologist Mary Anning—says that she knows "at least four actors" who are "terrified" that coming out could ruin their livelihoods.

The Sunday Times interview is paywalled, but here's some key excerpts courtesy of Harper's Bazaar:
'I cannot tell you the number of young actors I know—some well known, some starting out—who are terrified their sexuality will be revealed and that it will stand in the way of their being cast in straight roles,' the actress told The Sunday Times.

Winslet added that she was aware of 'a well-known actor' who was recently instructed by their agent to keep their bisexuality a secret.

'The agent said: I understand you are bisexual—I wouldn't publicise that,' Winslet said. 'I can think of at least four actors absolutely hiding their sexuality. It's painful. Because they fear being found out.'
---
Jen Shah speaks! After pleading not guilty to fraud and money-laundering charges, the Real Housewives of Salt Lake City star posted a picture of herself on her Instagram with an all-caps "FREE JEN" along with the caption: "Thank you for being loyal, believing in me, and not believing the hype. This journey has showed me who my true friends are." [Us Weekly]
A lawyer for DMX confirmed that the rapper suffered a heart attack on Friday but declined to comment on whether it was connected to an overdose as has been previously reported. "It does not look good," the lawyer said when asked about DMX's condition. [Page Six]
Zendaya's gonna voice the notably less stacked slash possibly transmasculine Lola Bunny in the new Space Jam movie. [Bossip]
Obsessed with Hollywood Life's understanding of genetics!!!! Yesterday, they said Beyoncé looks like daughter Blue Ivy Carter's twin in a throwback pic from when she was little (she doesn't), and today they're saying that Reese Witherspoon and her son, Deacon Phillippe, look like twins (they don't). Love to simply say things!!!! [Hollywood Life]
Michaela Coel's up for Outstanding Performance by a Female Actor in a Television Movie or Limited Series at tonight's SAG Awards. [Us Weekly]
Mariah Carey hit her whistle register while getting her first dose of the covid vaccine! And was kind enough to post a video of it on Instagram. Watch the e-vaccination of Mimi below.