Although Kate Middleton and Prince William have only told their parents the sex of their baby, a slip of the tongue made it clear that Kate might be playing uteran hostess—I picture it as an upscale B&B, complete with L'Occitane bath products and tiny decorative soaps and a Jonathan Adler guestbook—to a tiny future Queen.
She was handed a teddy bear as a gift, and responded:
"Thank you, I'll take that for my d—" and then stopped herself.

Asked if she was about to say "daughter," all Kate would say was, "We're not telling,"
GAME-CHANGER. Especially since the new Succession the Crown bill decreed that their offspring would be heir to the throne regardless of his/her gender, a first in the long, fusty house of Wales. Personally, I think she was saying "dick." Like, her own. I'll take that for my dick. Middleton, out. [Newser]
If you feel like believing the Enquirer, Kate wants her party-hardy siblings Pippa and James Middleton to be the godparents but Queen Elizabeth is not into it.
G/O Media may get a commission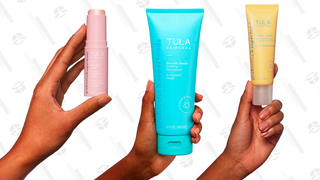 Will the ostensible royal girl be called Lilibet? Libby? I still like Frogmella. [Hello! Magazine]
---
Valerie Harper, who played indomitable New York Jewess Rhoda Morgenstern on The Mary Tyler Moore Show and her own spinoff Rhoda, exclusively told People that she has been diagnosed with a rare form of terminal brain cancer called leptomeningeal carcinomatosis. Her doctors say she has less than three months to live.
The 79-year-old Harper, who previously battled cancer in 2009, says "I don't think of dying. I think of being here now." Fuck. It's the sidekicks that really get you choked up. [People]
---
Human pustule Donald Trump keeps forgetting that he's just a collection of teeth and hair and fancy charmless buildings and tiny food plated American Psycho-style and blatant, outdated sexism. Oh, The Donald! He took it to a new level on this week's Celebrity Apprentice:
Bret explains to his eventual executioners that, at one point, Brande "got down on her knees and passionately said, 'I want to do this.'" The innuendo was too thick for a goon like Donald Trump to let the statement simply slide.

"Excuse me, you DROPPED to your knees?" Trump directs towards Brande.

"Yes," Brande responds.

"It must be a pretty picture. You dropping to your knees."
At which point he and noted slimeball Piers Morgan exchange looks and chuckles because that's what Real Men Say. But also, Bret Michaels was there? So basically it's all just a fever dream. [VH1]
---
Jon Stewart is taking a 12-week hiatus from The Daily Show to direct Rosewater, a political drama about a Canadian-Iranian journalist named Maziar Bahari who was accused of conspiring against the government and jailed in Tehran for four months. (Stewart adapted the screenplay from Then They Came for Me: A Family's Story of Love, Captivity and Survival, by Bahari and Aimee Molloy.) Daily Show contributor John Oliver will fill in for eight weeks until summer starts. [NYT]
---
"Elton John asked for an extra room in the hotel for some of his collection of glasses because he needs a temperature of 16C to preserve the accessories.''
My gif is my song and this one's for you. [Contact Music]
---
Lisa Vanderpump and Adrienne Maloof are opening feuding restaurants that you probably will not eat at, ever. [TMZ]

Warm, welcoming children's performer DMX is being sued by a club. [TMZ]

Justin Bieber called his ex Selena Gomez to whine about his terrible birthday but she was not having it. [Hollywood Life]

Edward Furlong was sentenced to six months in jail for violating his 2010 probation. [USA Today]

Carrie Fisher will be reprising her role as Princess Leia in the next Star Wars. [HuffPo]

"They don't like Givenchy Kanye. They don't like Kanye in a kilt. They don't like Kanye in a relationship." —Kanye on what we do and do not like about Kanye, during a call in to Hot 97. [Billboard]

Kristen Stewart may have been a sullen lil' flirtini with Patrick Schwarzenegger. [Radar]

Taylor Swift is afraid of ending up "awful, intolerable" and alone:

"Laying in a marble bathtub by myself, like sad, with a glass of wine just complaining that my life ended up alone because I pushed everyone away because I thought I was too good to hang out with anybody. The typical Hollywood sad cliché of the poor lonely starlet with no one because she put up all these walls and didn't trust anyone. That's my fear. And that's why I live my life the way I live my life because I'd so much rather feel everything than end up like that."

Oh, T-Swizzle. Fuck it, I LIKE her, guys. Always have, always will. [Mirror UK]

On the bright side, if she ends up in that bathtub she can fill it with the $1 millon dollars she made off the sale of her Hyannis Port property, which she bought back when she was trying to moonwalk into Kennedyland/Camelot. Probably hidden in a shrub and moving occasionally when nobody was looking, like in cartoons. [E!]

Speaking of which, Harry Styles stood up his latest model/potential girlfriend on a date. [Daily Mail]

Ohmaaagaaad, this picture of adorable Taye Diggs and his adorable (x2) son in a Got Milk ad just broke my brain. [Contact Music]

Cindy Crawford says that her marriage to Richard Gere didn't work out because "I was too young to be Mrs. Gere." Aren't we all? Like, metaphorically or something? [Zee News]

Girls Next Door and Playboy Bunny reality star Holly Madison birthed a baby future subject of the male gaze girl. [People]

Cuba Gooding Jr. is running around saying bizarre shit and calling himself "Dick McWilly" now, which is normal. [Page Six]

The actual Neverending Story: Demi Moore is finally, finally filing divorce papers with Ashton Kutcher. [Page Six]

Mary-Kate Olsen and Olivier Sarkozy are still together. What the fuuuuck is that about. [Page Six]

Anna Kendrick went on vacation in a cute black one-piece. [NYDN]

Corey and Topanga's son on the Boy Meets World redux Girl Meets World has been cast. [TVLine]

Kris Jenner does not want Kim Kardashian to quit Keeping Up With the Kardashians. What was the name of that 16th century Hungarian countess who bathed in the blood of girls in order to maintain her youth? Oh right, Kris Jenner. [Radar Online]