K8 Middleton, rather delightfully referred to in this New York Daily News article as a "queasy royal," is feeling a little better after getting fluids but remains in London's King Edward VII hospital due to severe Wingardium Leviosa!! hyperemesis gravidarum. A palace spokesman wants everyone concerned for Kate to know that she and Prince William are "immensely grateful for the good wishes they have received." As ever, it's a symbiotic relationship: English retailers are expecting a huge revenue increase in maternity clothes and baby gear thanks to the "Kate Middeton Effect."
After a prank call from two DJs at a Sydney radio station tricked a hospital nurse into divulging details of Kate's condition, Wills is even more concerned than usual about Kate being subjected to the media feeding frenzy. (He has "always had a distrust, bordering on outright loathing, for the press." HMM, I wonder why.) At his insistence, the Queen's big-shot legal staff have been calling the major tabloids and warning them that if they step out of line in any way during Kate's pregnancy, they will receive a Royal Curbstomping forthwith. [NYDN, Radar Online, Forbes, BBC]
There is a 500 to 1 chance that their kid will be named Frogmella. Cross your fingers. [Contact Music]
---
G/O Media may get a commission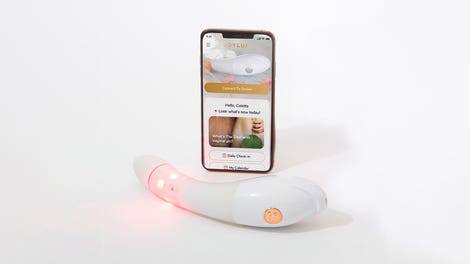 $50 Off
Joylux vFit Gold Device
Frankie Muniz was rushed to an Arizona emergency room last week when he found himself unable to speak and "acting really weird" after losing vision in one eye. As it turns out, the 27-year-old had a mini-stroke—in clinical language, a "transient ischemic attack"—which happens to less than 10% of people under the age of 45. Muniz also says that he doesn't smoke or drink. But don't worry, he's fine and back to Tweeting about culturally irrelevant ephemera:
---
Anne Hathaway covers the January issue of Glamour in all of her histrionic, theater-nerdy glory:
"I still feel the stress over 'Am I thin enough? Am I too thin? Is my body the right shape?' There's an obsessive quality to it that I thought I would've grown out of by now. It's an ongoing source of shame for me."
And:
"[Husband Adam Shulman] is a good man. He's beyond intelligent. He loves fearlessly. His beliefs are beautiful. He's my best friend. I love him. I just feel that I have the greatest husband in the world for me. I would never have gotten married if it weren't for him. You have to want to be married to someone."
Aw, hell, Anne Hathaway, you're not so bad. [NYDN]
---
Jessica Simpson's mother Tina is reportedly hitting the sauce hard after her divorce from Joe, her husband of 34 years, not to mention the myriad gay rumors surrounding him these days. "She's built up quite a tolerance and has switched from wine to stuff like scotch and vodka," says a source. "Jess is just a mess over this, she feels helpless and doesn't know what to do." Both Jessica and Ashlee are urging Tina to go into treatment. [Radar Online]
As an alternative, Joe had suggested an open marriage to Tina, but she "hit the roof." [National Enquirer]
---
If Barbara Walters thinks Alana "Honey Boo Boo" Thompson is one of the most fascinating people of 2012, that's fine. It's the morale of fellow fascinating person Hillary Clinton that I'm worried about. [Us Weekly]
---