Ahh, Kate Hudson. She's an Oscar-nominated actress. She's a bestselling author. She's a successful entrepreneur. She's a beauty trendsetter. She's an undeniable Hollywood A-lister despite not having done a helluva lot onscreen over the past decade. One of the reasons for this omnipresence is, of course, nepotism. (Who doesn't love Goldie Hawn.) But a lot has to do with that relentless joie de vivre. When you see Kate Hudson on the cover of a magazine flaunting her "fun, flirty, and fit" figure, you don't think Christ, what's she promoting now. You think Oh look there's Kate Hudson, doing her job! Wow, what a beautiful day. I'd like to adopt a puppy. Or maybe that's just me.

I'm losing focus, so let me get to the point. Hudson nabbed the cover of October's Cosmopolitan and, in the interview, answered a series of softball questions about her life. It's no sit-down with Charlie Rose, but it's charming.
Some examples:
To me, being healthy means: Staying connected!

My post-sweat-session beauty hacks: Shaving your head. Cuts down on time spent post-sweat.
The best advice [my brother, Oliver Hudson] ever gave me was: Nobody cares! "There's about 7 plus billion people in the world who don't give a shit."
G/O Media may get a commission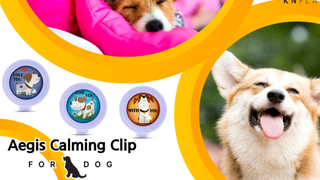 20% off
Aegis Calming Clip for Dogs
As the questions kept coming, Hudson kept answering. When asked to name a co-star she'd like to live with, she went with Liv Tyler. Love it! When asked to describe the last photo she took with her phone, she said it was "a bee sting on the back of her son's neck." Aw, cute parent stuff! Bu when asked to name the laziest thing she'd ever done, she said, "Have a C-Section!"
Cue the torches.
I was born via C-section for reasons outside my mother's control, and certainly understand the backlash. But my thoughts on C-sections are almost entirely worthless, so all I'll say is that Kate Hudson probably won't respond to this controversy, and that you'll see her on the cover of another glossy publication in as little as four months, smiling more brightly than ever.
---
Angelina Jolie spoke with her favorite magazine again about the "difficult" year she's had and revealed that she's "a little bit stronger." Ahh, what a line. Triumph shrouded in melancholy. A perfect People quote.

Here's a little more of the interview, which is just revealing enough to give aggregators good headlines but actually provides almost no insight into anything you actually want to know about. Again, People! God love 'em.
"We all have our difficult times, but as a mother you also have a responsibility first and foremost towards the kids...Everything will be around the children. I haven't worked for over a year now because they needed me home. Everything was just stopped. I'm really sitting and talking with them because everything affects them. Every location, every type of project, I'm going to have to adjust it to however much they can handle."
Read it all here.
[People]
---
Last night, while recommending books on her Instagram story, Kim Kardashian said, "I love to read you guys, if you don't know that fact about me." Several stories later she "proved" her love for the written word by showing off her collection of Mitch Albom. "Reading actually gets rid of my anxiety and makes me fall asleep at night."
---